Are you over having a cupboard full of appliances that you may only use a couple of times a year? Do you want to reclaim some space in your cupboards?
I don't know about you but I answered yes to both of these questions. Having a tiny kitchen with only one corner cupboard for kitchen appliances means I don't have very many and what I do have already takes up all my space which means any new addition = something has to go.
One appliance I have always wanted is a rice cooker, but knew that I had no where to store it so I made do. I own a slow cooker which is rather heavy and cumbersome so it generally stays at the back of the cupboard so far out of reach that I hardly bother to use it which made me sad as I love slow cooking as I can pop something in first thing in the morning and not have to worry about dinner again until its "feeding" time.
So you can imagine I was super excited when
KAMBROOK
offered one of their appliances to me to test drive. I immediately jumped on their
website
and had a look at their range to make a choice. As soon as I saw the QUATRO Multi-Cooker I knew that it was what I needed it would solve my NO rice cooker situation and my slow cooker dilemma once and for all.
It is a four in one appliance that Slow Cooks, Sautes, Steams and cooks Rice. As I mentioned above I already owned a slow cooker that didn't receive much use, so I gifted this on to a friend who didn't own one. I now had space for this shiny new appliance and the bonus was, it was a Rice Cooker as well so my wish was granted and it took up no extra space and I knew I would be using this appliance more than a couple of times a year.
I'll briefly run through what I love about the QUATRO Multi-Cooker:
It is light weight – easy to get in and out of the cupboard = I use it more
The cooking bowl is non-stick – no soaking needed to clean = I use it more
I can brown my meats (Sauté) in the same dish I will be slow cooking in = less dishes
You can cook rice and steam peas at the same time = time saving
You can make risotto and not have to stand over the pot stirring
= I can multitask
(as us mums do best)
You will use it, it will save you time, you will have less mess, and you will become the queen of multi-tasking in the kitchen.
RECIPES
What have I cooked so far, click the name for direct links to the recipes.
Quinoa using the Rice Cook Mode
– Cook exactly the same as rice – 1 Cup to 2 Cups Water – change water to stock for extra flavour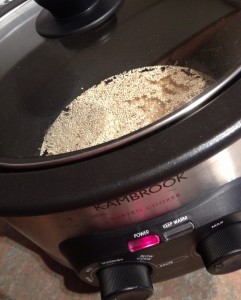 Steam Peas While Cooking a Risotto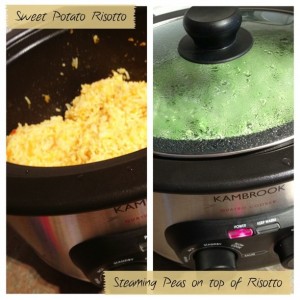 Risotto: sautéed onion, garlic and sweet potato in the Quarto then added the rice and stock. change to rice cooker mode and let it do its thing. Near the end add peas into the steaming tray and leave over the risotto while it sits on keep warm. Stir in a little butter, feta and season.
Normally I would have to stand at the stove for 30 mins, not now I was able to bath kids and tidy up while dinner is cooking.
I love it's versatility, it's ease of use and that it is quick to heat up for sautéing and rice cooking which means it has been seen regularly on my bench for the past two months.
I still have to use the steaming mode as it is intended: some healthy steamed fish and dumplings would be perfect.
YOUR CHANCE TO WIN ONE
KAMBROOK have kindly given me a QUATRO Multi-Cooker (valued at $79.95) to giveaway to one lucky Cooking For Busy Mum Follower. How good is that, just in time for winter!
To enter simply complete the options in the Rafflecopter widget below and comment with your full name and email address what would you cook in the QUATRO Mulit Cooker and which function do you love the most.
Open to Australian Residents Only

(Visited 1,149 times, 10 visits today)