Do you have a go to meal that you like to cook when you don't feel like battling dinner with the littlies?
After a long day or when I know the boys are overtired and are generally not willing to cooperate I turn to my Sweet Potato Rice dish or as the boys call it "Orange Rice". It has a lovely sweet flavour from the sweet potato and carrots and is warm and wholesome
This meal is cooked in the Kambrook Quatro Multi-Cooker, but it can also be cooked in a heavy pan on the stove.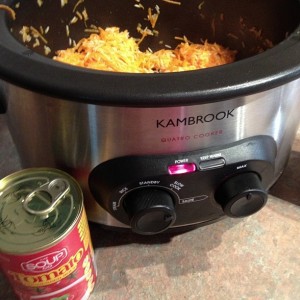 INGREDIENTS
1 Medium Sweet Potato, grated
2 Carrots, grated
1 Onion, finely diced
1 Cup Uncooked Rice
1 Can Tomato Soup
1 1/2 Cups Chicken Stock
LETS PUT IT ALTOGETHER
1. Place the grated sweet potato and carrot as well as the onion into the Quatro on Saute mode turn to high (or into the heavy pan on a medium to high heat). Saute until the vegetables begin to soften.
2. Add the uncooked rice and stir well to coat the rice.
3. Add the Tomato Soup and Chicken Stock, stir.
4. If using the Quatro, turn off at the wall and turn the dial back to Standby. Turn back on and then turn the dial to Rice Cook mode. Cook stirring occasionally until the Quatro automatically stops. Leave to sit with the lid on for 5 mintues.
5. If using the stove, reduce to a simmer and place the lid on the pan. Cook for 20 minutes, stirring occasionally until the rice has just softened.
My boys enjoy this dish as is, or you could serve as a side dish with meat and a leafy salad.
Serves 4-6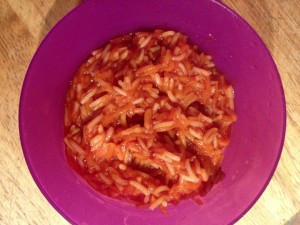 (Visited 3,799 times, 26 visits today)