Frozen Raspberries were on special this week for 1/2 price so about $2.80 which is such great value. I can never afford to buy fresh raspberries as they are normally close $8.00 for 250grams and I can never justify that when I could use that $8.00 to buy a kilo of meat.
There is nothing wrong with frozen raspberries or fruits in fact they are perfect for baking, eating as a guilt free treat and adding to breakfast cereals etc.
McDonald's had been advertising a Raspberry and Pear loaf in their McCafe menu for the last couple of weeks (I can't remember the last time I was able to sit in a McCafe and enjoy a coffee and cake) so I decided to whip up my own and enjoy it at home with a coffee from my Aldi Expressi Coffee Machine.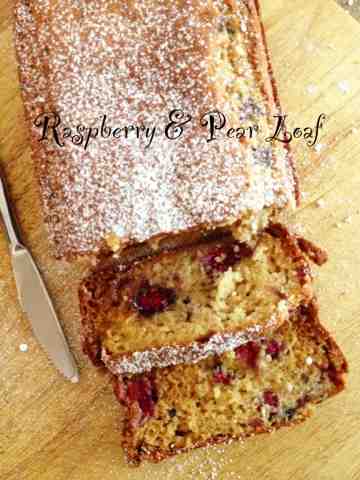 INGREDIENTS
2 1/2 Cups Self Raising Flour
1 Tsp Bicarbonate Soda
1/2 Cup Caster Sugar
1 Tsp Vanilla Essence
1/2 Cup Light Olive Oil
2 Eggs
2 Pears, peeled and seeded
1 Cup Frozen Raspberries
1/2 Cup Pineapple Chunks and juice (I had this left in the fridge)
Alternatively use canned pears and 1/2 the cup of juice to replace the pineapple.
LET'S PUT IT ALTOGETHER
1. In a food processor place the pears and pineapple (if using) and process until a purée forms.
2. In a large bowl place the flour, bicarbonate soda and caster sugar mix well.
3. Form a well in the dry ingredients and add the oil, eggs and vanilla essence.
4. Add the pear purée and mix all ingredients with a wooden spoon until just combined.
5. Fold through the raspberries.
6. Place in a greased and lined loaf tin and bake in a 180 degree Celcius oven for 45 minutes or until golden brown and bounces back when touched.
Serve with a dusting of icing sugar.
Keep in the fridge for up to 5 days or freeze
Freezer friendly: cut into individual pieces and freeze separately in zip local bags.
Perfect for lunchboxes

(Visited 6,694 times, 12 visits today)