Soup is a staple meal for the family throughout winter and it is also a perfect way to get all those "good for nutrients" into you to fight the winter nasties.
I love this recipe as it is one that you can prep your beef and vegetables the night before and then in the morning before work simply set everything up until step 6 and then do the final step when you get home.
Will the littlies enjoy it? Mr 2 who I would say is not a fussy eater enjoyed it, I placed less liquid in his bowl and he ate. Mr 3.5 who is a bit more inquisitive about his meal didn't enjoy it so he was offered the meat on its own with a slice of bread. My motto is try and try again and he will gradually start to enjoy a different textured meal.
This soup uses some old school basic items that all contain great nutritional value and won't cost you an arm and a leg.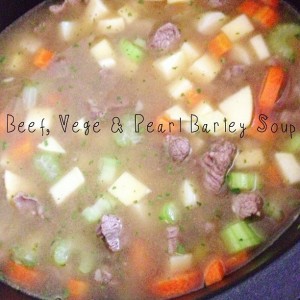 INGREDIENTS
500gm Chuck Steak, cut into 1cm cubes and any excess fat removed
4 Potatoes, cut into 1cm cubes
1 Swede, cut into 1cm cubes
3 Carrots, cut into 1cm cubes
1 Celery stalk, sliced finely
4 Garlic Cloves, sliced finely
1 Onion, diced finely
2 Litres Chicken Stock
1 Cup Dry Pearl Barley
Salt & Pepper
Fresh Parsley
LET'S PUT IT ALTOGETHER
1. Prepare your meat and vegetables, cutting all into the same size 1cm cubes. This will help everything cook evenly.
2. Place the
Quatro cooker from Kambrook
on standby and turn on at the wall, the light will flash, turn to slow cook and the light will then stop flashing and remain red. You are now ready to go.
3. Place the cut beef and vegetables into the Quatro cooker (or slow cooker).
4. Cover this with chicken stock (approximately 2 litres) you just want all the ingredients covered.
5. Season with pepper only, leave the salt until cooking has finished as the stock has salt already in it.
6. Slow cook for 10 hours.
7. 30 minutes before the 10 hours add the dry pearl barley and stir to combine.
8. Check to see that all the vegetables are tender, the meat fall apart when bitten into and the pearl barley is soft to chew and if so then your soup is ready to go.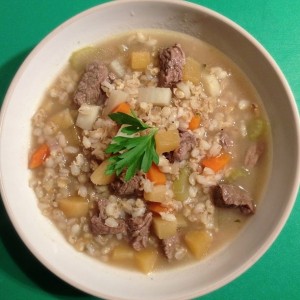 Served with a sprinkle of fresh parsley and if desired any additional seasoning.
Serves: 6-8 adult serves
Freezer Friendly: Cool completely and then fill zip lock bags with individual portions. Defrost and heat in the microwave. Additional splash of water and seasoning may be required upon defrosting.

(Visited 2,538 times, 3 visits today)