It was hubby's birthday on the weekend and he loves fishing as do the two boys, so as per the request of Mr 4 I made a Fish Birthday Cake.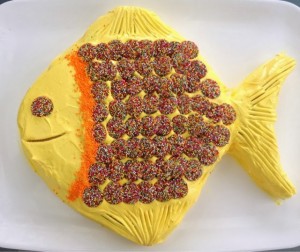 This is a really easy cake to put together and took about 20 minutes to cut, ice and decorate.
I used 2 packets of home brand Vanilla Cake mix at 70 cents each. I have mentioned before that I prefer packet mixes when I shape cakes as they are nice and easy and don't taste too bad either, and gives you more time to shape and decorate.
This was baked into a large rectangle shape.
Normally I make butter cream icing from scratch but I was short on time and energy so opted for Queens new Butter Cream Icing that you just need to add milk and vanilla essence to and mix with an electric beater. I added a little more icing sugar and milk (to make a little bit more) as well as food colouring.
It is a great option as your not using all that butter. It has only 2.2 grams of fat per serve with a recommended 13 serves per packet.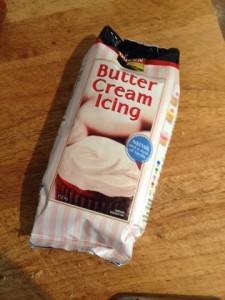 HOW TO MAKE
1.Simply cut an oval shape out of the rectangle like this.
2. Use 3 of the 4 corners and position like this to make fins and a tail.
3. Use toothpicks to hold the fins and tail in place.
4. Cover in icing.
5. Use freckles to make scales and an eye. Sprinkles do distinguish the head from the body. Use a fork to draw on the fins and tail and the other end of the fork to draw a mouth.
Keep refrigerated before and after serving.

(Visited 15,542 times, 151 visits today)