Sausage rolls don't always have to be reserved for party food especially when you make them yourself.
These mini sized mini rolls hide some veggies, are made with real meat and the flavour is no comparison to frozen store bought ones.
Here they are served with tomato sauce and mini plastic toothpicks which were purchased from: http://www.neat2eat.com.au
The kids loved them like this and I got a loud "love it" when I served this last night.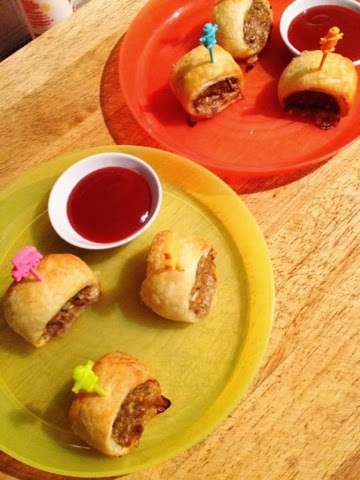 INGREDIENTS
500gm Veal Mince
1 Carrot, grated
1 Small Zucchini,peeled & grated
1 Tsp minced Garlic
1/4 Brown Onion, chopped finely
1 Tsp Seeded mustard
1 Egg
1 Tsp Chicken Stock Powder or just salt and pepper
2 Sheets Puff Pastry
LET'S PUT IT ALTOGETHER
1. In a large bowl place all the ingredients and mix well to combine with your hands.
2. Cut a sheet of puff pastry in half, lay 1/4 of the mixture through the middle of the half puff pastry making sure to go all the way to the edges evenly.
3. Roll the pastry over the mince mixture and all the way over to seal.
4. Cut into bite sizes approx 6-8 per roll. Place onto a baking tray lined with grease proof paper. Spray with a little cooking oil.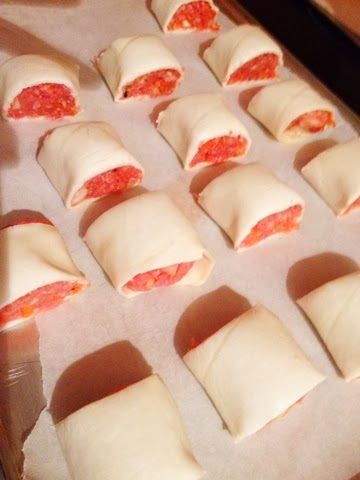 5. Repeat until all the mixture is used.
6. Bake in a 200 degree Celcius oven for 10-15 minutes or until puffed up and golden brown.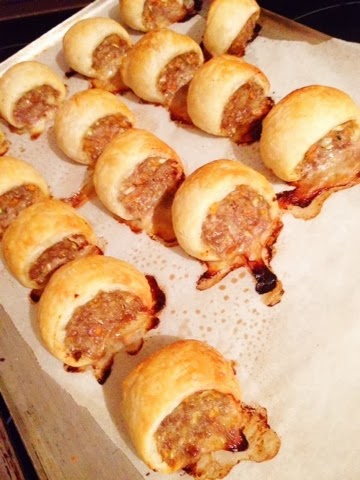 Lunchbox Friendly: Perfect cold the next day in lunch boxes.
Freezer Friendly: Freeze at the point where you have just cut into bite sized pieces. When ready to cook simply place the uncooked mini sausage rolls on the tray still frozen. Adjust cooking time by an extra 5 minutes.

(Visited 9,994 times, 16 visits today)