If you are stuck for an a Christmas gift idea for a school teacher, that someone that has everything then this gift jar filled with all the dry ingredients to make Fruit & Nut Blondie's is a lovely idea. The recipe is very versatile so you could quite easily change the fruit and nuts for chocolate chips, M&M's etc.
After having this one in my cupboard for a little while until I made it, I even think it is a great idea to have a few these made up, so when you feel like cooking something it is nice and easy just like having a packet mix in the cupboard except there are no added preservatives.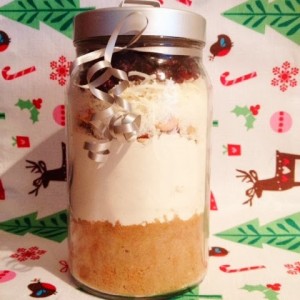 Here are the directions to make the gift jar. The directions on how to make the Blondie's and the extra wet ingredients needed can be downloaded
here
and printed out and stuck to the jar or inside a card. This is a word document so you can change it if you decide to change the fruit and nut filling.
INGREDIENTS
1 1/2 Cups Brown Sugar, packed
2 Cups Plain Flour
1/2 Tsp Baking Powder
1/4 Tsp Salt
1 1/2 Cups Chopped Nuts of Choice
1 Cup Dessicated Coconut
1 Cup Dried Fruit, try sultanas, cranberries, raisins
If making with chocolate chips swap the 2 1/2 cups of nuts and fruit for it.
LET'S PUT IT ALTOGETHER
1. In a 1.6 Lt jar pack the brown sugar into the bottom, use the end of a rolling pin to help pack down.
2. Then place all the remaining ingredients into the jar in the order listed.
Decorate with ribbon and attach the direction and ingredients list either in a card or stick to the jar.
Here is what the cooked product looks like.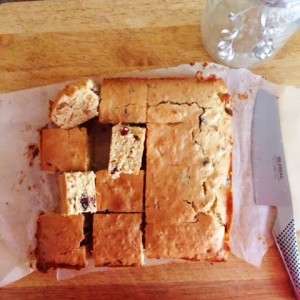 Directions to Make Fruit & Nut Blondies
1. Beat in a large bowl 1/2 cup softened butter or margarine with 3 large eggs and 1 tsp vanilla essence until combined. It may look curdled.
2. Add the contents of the jar and mix well to combine.
3. Pour into lined square pan and bake at 175 degree celcius oven for 35 minutes until golden brown.
4. Allow to cool and cut into squares to serve.

(Visited 1,005 times, 4 visits today)