I was provided the Pork mentioned by Murray Valley Pork, all photos and opinions expressed are my own.
In Australia we aren't huge fans of a roast for Christmas lunch or dinner as it is just so darn hot on Christmas Day. This year however I may just be persuaded to get my roast on.
The only way I will be roasting is outside in the BBQ and in this case our new Weber Family Q (which I will talk about more in a for coming post). Barbecuing gets the heat out of the kitchen and also makes the "men folk" feel more responsible (what man doesn't like barbecuing and then taking ownership for his efforts???) for the cooking of it so we can enjoy the day.
Murray Valley supplied me with three superb cuts of meat that would be perfect for Christmas. Murray Valley Pork,
is a premium range of hand-selected pork, which is always tender, juicy and absolutely delicious.
Here is how I cooked the three different cuts and the recipes for accompanying side dishes, tips for stand out crackling and a fab Asian Basting sauce.
Cranberry & Almond Boneless Roast Pork
This one just screams Christmas to me, the sweet nutty filling is a lovely accompaniment for the succulent surrounding pork. This one required no prep, I simply removed from the cryovac (the cryovac is great as it has a month use by date so you can buy it a few weeks before Christmas to beat the rush and know that your meat will still be fabulously fresh) and placed it into the BBQ and closed the hood, let it cook for 1 1/2 to 2 hours and it was done, just like that.
I served it with a refreshing
Raw Beetroot Salad
on a bed of baby spinach and creamy mashed potato topped with a Cranberry Gravy. This meal is low on effort but big on impression and flavour, just what we want as busy mums on Christmas Day.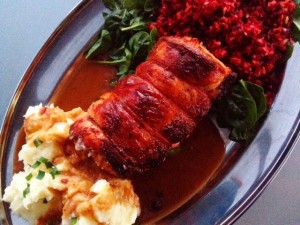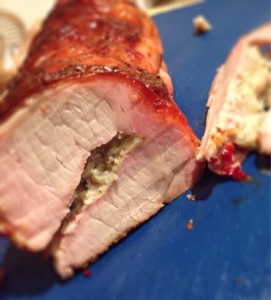 Rolled Pork Loin
This one is perfect for a large family or gathering. Covered in a layer of skin which will give you some great crackling, this one is a crowd pleaser for sure. A great cut for a traditional Christmas dinner.
Again, get it on to your BBQ it's the only way to go for roasts this Summer.
How to Get the Perfect Crackling
This works for me but everyone has their own little tricks.
This cut comes scored already which is essential for great crackling.
1. Remove the pork from the cryovac and pat dry with a paper towel.
2. Cover with salt and place in the fridge uncovered for several hours (overnight would be ideal) this will help to dry out the skin so that it will crackle better.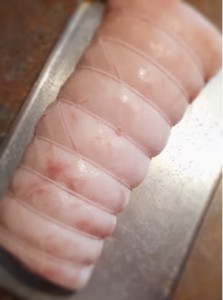 3. When cooking start with a very hot temperature for 30 minutes to get the cracklings going and then cook at a lower heat for the reaming 1 1/2 to 2 hours.
If you weren't able to get it to crackle this way, once the meat has finished cooking, remove the crackling and lay on a tray. Place under a hot grill for only a few minutes (watch it because it will burn quickly) it will crackle up nicely.
As seen here I did this one with all the normal roast trimmings straight in the BBQ, adding the vegetables about 45 minutes before the pork had finished cooking.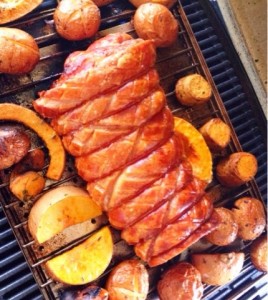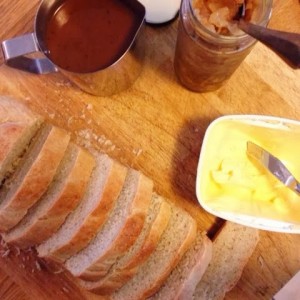 Cut the roast pork meat up, set out on a bench and let everyone help themselves.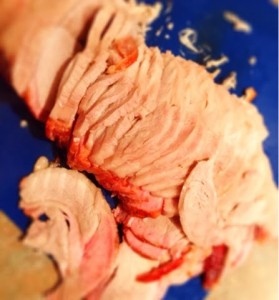 Pork Collar But (Rind Off)
This cut of meat was a challenge for me. I had never cooked with this cut before so I did a little research first to see how to best cook it.
Several options include, slow cooking, barbecuing, cutting thinly before cooking and marinate, or cut into steak portions. Either the meat had to be cooked slow or fast no in between. This is due to the higher fat content. Cooking it for a middle range of time would result in tougher meat.
Again, I turned to the trusty BBQ and some Asian flavours to sweeten up this cut. I only cooked half as the full piece would easily serve 8-10.
Asian Inspired Basting Sauce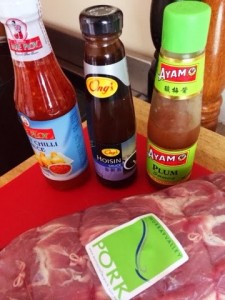 Equal quantities of (approx 3 tbs of each)
Mix in a bowl well to combine.
Add the pork Collar but and leave to marinate in the fridge for several hours (overnight would be ideal).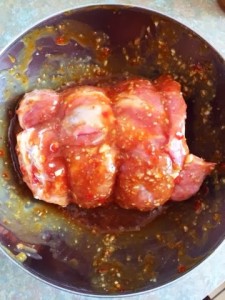 Place the Pork Collar but onto the BBQ and on a medium heat cook for 2-3 hours, basting with the remaining sauce every 30 minutes until all used.
Allow to rest for 10 minutes before slicing.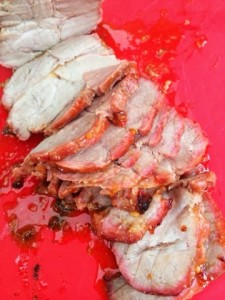 To follow through with the Asian flavours I served it with steamed Asian vegetables and rice.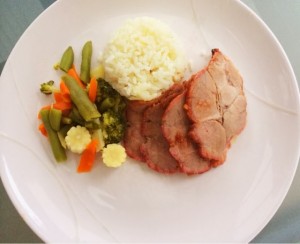 A meal enjoyed by all the family as shown here, is the kids version where I served it on a stick ( which they loved ).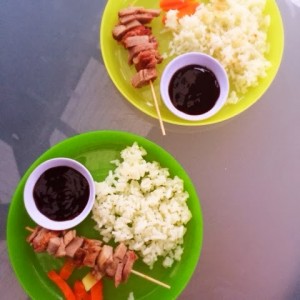 When deciding what meat to cook this Christmas think Pork. It is the perfect roasting meat that is ideal for the BBQ.
Murray Valley Pork can be found in your local specialist butcher. Click Here to see where to buy.


(Visited 434 times, 3 visits today)