This delicious recipe is from Kendall a fellow busy mum of three boys and my lovely admin help on the Facebook page.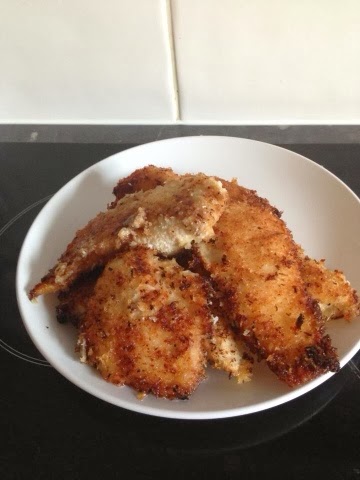 Ingredients
-Chicken (can use breast or thigh according to preference) I usually buy a pre pack of breast which I think is about 1.2 kilos which makes a fair bit but it is yummy on sandwiches the next day 🙂
-Bread crumbs (I use Japanese Panko Crumbs which are extra crunchy)
-Dessicated or shredded Coconut (According to preference)
METHOD
1. Depending on what type of chicken you have either thigh or breast, cut it into 'schnitzel' type portions (you may need a kitchen mallet to bang it out a little).
2. Set up an 'assembly line' FLOUR / EGG MIX / BREADCRUMBS & COCONUT MIX… I usually line the kitchen bench with cling film then make a pile of the dry ingredients on either side with the egg bowl in the middle so after crumbing I can just pick it all up and drop the whole lot in the bin.
3. Lightly coat the pieces in flour, shake off the excess, then dip in the egg mix, let the excess drizzle off then coat each side with the crumb/cocnut mix.
4. Set on a plate in the fridge for at least 1/2 hour before cooking (this will help the crumbs stick better)
5. Heat a fry pan and use either some butter, or oil (I use coconut oil). Fry off each piece until golden.
6. Put the chicken pieces after frying onto a lined oven tray into a 200 degree Celsius oven to crisp up and allow the chicken to cook through.
Is delicious with some sweet chilli sauce 🙂

(Visited 5,488 times, 4 visits today)