Don't you just love it when you have one of those brain wave moments (which are far and few between) and think why not give that a go. That's exactly how this festive dessert was created.
Take a Swiss roll recipe, add some festive colour (sorry it's not natural colouring but you can use that if you like), channel a candy cane vibe, add some peppermint essence to the cream to mimic the flavour of a candy cane and viola you have my Minty Christmas Swiss Roll.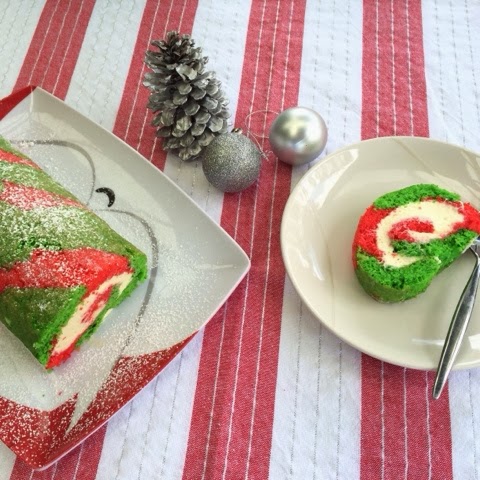 With only a handful of ingredients and that fact it can be made a few days before you have a real winner here.
INGREDIENTS
4 Eggs, 70 gram and at room temperature (this is important as the eggs will whip better and give the cake a greater rise)
6 Tbs Self raising flour
5 Tbs Caster Sugar
3 drops Green Food Colouring
3 drops Red Food Colouring
400 ml Thickened Cream
1/2 Cup Icing Sugar
2-3 drops Peppermint Essence
LET'S PUT IT ALTOGETHER
1. In a large dry bowl add the eggs and sugar. Beat on high speed until the mixture has over doubled in size, is a light creamy texture and you can see beater ribbons in the mix.
2. Divide the mix evenly into two smaller bowls, fold through 3 tbs of self raising flour in each bowl along with the food colouring red in one bowl green in the other.
3. Work quickly but delicitly with the mix. On a lined tray with a lip (hint: grease the top of the baking paper to stop the cake from sticking) Either pipe the mix on a diagonal alternating colours or I found it easy enough to spoon the mix into this pattern shown below.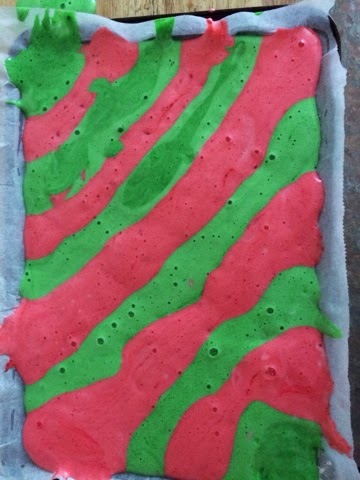 4. Bake in a 170 degree Celsius oven for about 8 minutes or until it bounces back when touched (you don't want it to brown).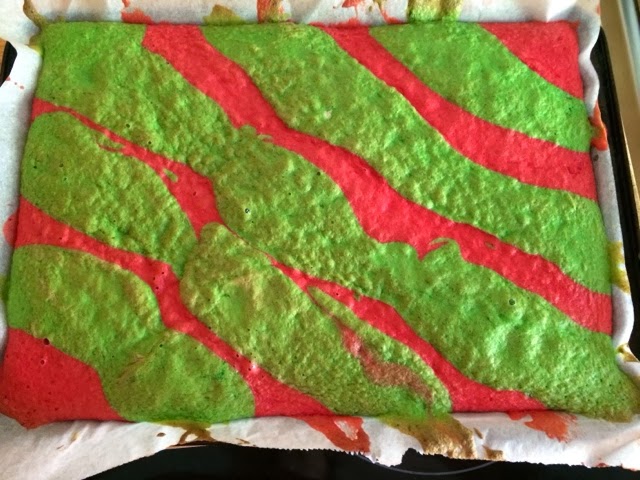 5. Place a damp tea towel onto the bench and dust with caster sugar. Remove the cake from the tin and flip onto the damp tea towel covered in sugar. Remove the baking paper from the bottom.
6. Gently roll the cake over to form the spiral and leave to cool with the tea towel over it.
7. Meanwhile whip the cream, icing sugar and peppermint essence (you can leave this out) until nice and firm.
8. Once the cake is cooled, unroll and spread the cream over leaving about 2cm at the end without cream. Begin to roll up making sure to push the starting end under to begin the spiral. Continue until the end.
9. Place on a plate and cover with cling wrap. Place in the fridge to firm up for a few hours or until ready to serve.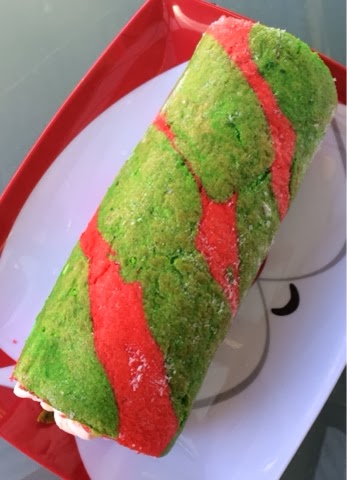 10. Serve with a dusting of icing sugar or some edible glitter would make it extra special.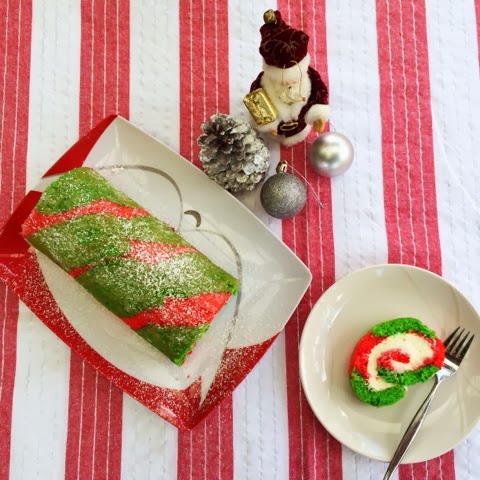 (Visited 1,030 times, 9 visits today)