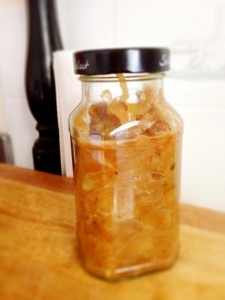 INGREDIENTS


6 Medium Onions, peeled and sliced finely
2 Apples, seeded and sliced finely
1 Tbs Thyme (fresh or dried)
3 Tbs Brown Sugar
1/4 Cup Vinegar – any vinegar will work – apple cider vinegar would be ideal
1/2 Cup Chicken Stock
Salt & Pepper
LETS PUT IT ALTOGETHER


In a medium saucepan, heat a little olive oil. Add the onions and salt (a few pinches) stir frequently until the onions become soft and translucent.
Add the apple and stir until they soften
Add the remainder of the ingredients and stir well to combine.
Reduce to a low heat and allow to cook uncovered for 45 mins – 1 hour – until the onion and apple a very soft and well broken down.
Add straight away to a sterilised glass jar, put the lid on immediately and allow to cool on the bench slightly before refrigerating.
This should last in the fridge for up to a month.
Enjoy with meats especially pork.
Can be used on sandwiches as a spread.

(Visited 537 times, 1 visits today)