Who doesn't love a good curry? It is such a diverse starting base which can been mixed up to make many combinations of meat and vegetables or even lentils if going meat free.
This week Boneless Pork Shoulder was on special at Woolworths and I stocked up on two.
The first one was cooked as a "roast" on my day off, the second I decided to slow cook whole as it would retain all its lovely moisture and flavour and all the cooking could be done while I was out for the day.
Who has heard the saying "curry in a hurry" even though this curry was slow cooked over the day it only took less than 30 minutes of my physical time to prepare and serve so I still had a curry in a hurry.
A win win meal with lots of flavour, versatility and quick and easy to prepare especially for a work night meal.
INGREDIENTS
1 2kg Boneless Pork Shoulder, remove the skin and fat (you can cook this in the oven and under the grill 30 minutes prior to serving for crackling)
4 Potatoes, quartered
2 Carrots, cut chunky
1 Onion, cut chunky
1 Tbs Tandoori Paste
1 Can Crushed Tomatoes
Salt to taste
Optional: frozen peas
LET'S PUT IT ALTOGETHER
1. In the
QUATRO Cooker by KAMBROOK
place your potatoes, onion and carrots. Turn the dial to standby and then turn on at the wall. The light will flash, turn to Slow Cook and after a second the light will stay red, the QUATRO is now ready to slow cook.
2. Place the skinned Pork shoulder on top of the vegetables.
3. Combine the crushed tomatoes and tandoori paste and pour over the top of the pork.
4. Finish with salt and pepper.
5. Place the lid on the QUATRO and leave to slow cook for 9 hours.
6. In the last 30 minutes add the peas if using.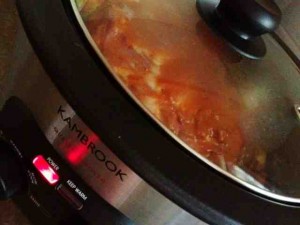 You know it is cooked when the vegetables are soft to cut into and the meat starts to peel away.
Serve with a side of Quinoa and some flat bread. Click here for a guide on cooking quinoa.
When I cook a meal I always like to serve the boys their meal in a more interesting way. It normally involves allowing them to see what they are eating by separating the meal items out. They really love this as my oldest loves to know what he is eating and I can explain what it is without it being mixed up and looking to overwhelming to them.
Serves: 6 adults

(Visited 2,790 times, 12 visits today)