We never seem to eat a whole roast chicken, whether we bought it from the supermarket or roasted it ourselves. That leftover roast chicken has many uses such as cold chicken for sandwiches and wraps, or you can use all the meat you can find on the bones and make a wholesome soup extending one chicken to make two complete meals.
The last cold rainy weekend we had on the Gold Coast I whipped up (and when I say whipped up it really is that easy) Chicken, Corn and Noodle Soup.
INGREDIENTS
The meat from leftover roast chicken (I had approx 1/2 a chicken left to pick meat from)
1 400gm Can creamed corn
2 Litres Chicken Stock (you can use powdered stock or a liquid stock)
1 Cup dry Noodle (such as angel hair pasta, I used some alphabet soup noodle I had from Aldi)
1 Spring onion, sliced
Pepper to taste
LET'S PUT IT ALTOGETHER
1. In a large pot over a medium to high heat bring the chicken stock to the boil.
2. Add the dry noodle and simmer for 15 minutes.
3. Add the chicken meat, creamed corn, spring onion and pepper, stir through and allow to heat through for another 5 minutes.
4. Once the noodles are soft to bite the soup is ready.
All that is left to do is enjoy and clean up the pot.
Serves: 4-6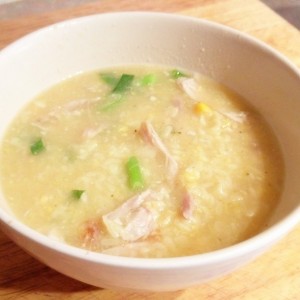 Chicken, Corn & Noodle Soup

(Visited 18,000 times, 8 visits today)