Family time is precious and when we have a day when we all don't have work or Kindy we like to get out of the house and experience different things.
Afghanistan: Hidden Treasures from the National Museum, Kabul


I was lucky enough to be given passes to see the new
Afghanistan: Hidden Treasures from the National Museum, Kabul
Exhibition on at the Brisbane
Museum for these September school holidays until Jan 2014.
Upon entry the boys were given paper gold crowns like the real one on display to wear. There were also these activity books for the older kids to get involved and learn more.
It starts with an 8 minute introduction movie and then you are free to walk through the exhibition and discover the treasures.
I would highly recommend purchasing the audio tour for an extra $7.50 so you can understand the displays. With two little boys this wouldn't of been possible but I would of loved to have heard the facts behind the beautiful pieces.
I wouldn't recommend taking children younger then 4 yrs old into the exhibition as there isn't much for them to interact with and you wont be able to appreciate the exhibit to its fullest. Also, no prams or large bags are allowed, leave these at the Cloak Room on level 2.
There were older children (say 10 yrs plus) that were able to view and ask questions about the pieces.
If you are looking to add to your cultural experience while visiting the Brisbane Museum I would highly recommend viewing the exhibit.
Click here for more details and how to pre-purchase your tickets.
THE BRISBANE MUSEUM FREE ENTRY
Here are a few snapshots of what we saw in the free admission section of the museum.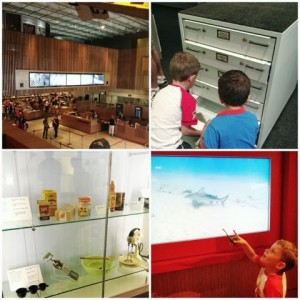 Going out as a family can be quite expensive but there are ways you can save. We always lean towards a packed family lunch as this alone will save you a minimum of $40.
This is what we enjoyed in the Playasaurus area on level 0 of the Brisbane Museum. Here they are free to explore dinosaur themed activities and watch a 15 minute music video.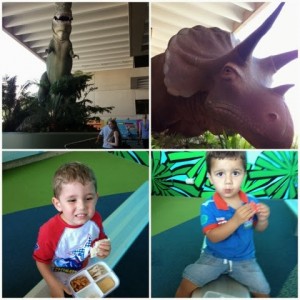 Boys: Ham Sandwiches, Soya Crisps, Biscuits, watermelon, water and a Milky Way.
Mum & Dad: Ham, Coleslaw & baby spinach sandwich, watermelon and a chocolate.
Here are some links to other convenient foods to make for days out.
EASY BERRY MUFFINS
RASPBERRY & PEAR LOAF
BANANA & OAT SLICE
CORN & ZUCCHINI PANCAKES
GREEN EGGS & HAM FRITTATA
PIZZA MUFFINS
PULL APART INDIVIDUAL QUICHES
A trip to the Brisbane Museum is a great day out. Only 45 minutes from the Gold Coast it is a nice easy drive. A packed lunch is a must and a half time break outside in Playasaurus is advised for littlies to let them run off some steam. Gone are the days where you need to be quite in a Museum, they are now interactive, colourful and enjoyable for the whole family.
GIVEAWAY – NOW CLOSED

THE WINNER IS KRISSY!! Your description made me hungry even after dinner.

I have one family pass to giveaway. All you have to do is comment below with what is your favourite packed family lunch for days out. A comment here or on facebook will be accepted. I will announce the winner on Wedneday 2 October at 8.30pm.
Open to Australian Residents Only.

(Visited 188 times, 1 visits today)