4 Overripe Bananas, mashed
2 Cups Quick Oats
1/4 Cup LSA Mix
1/2 Cup Sultanas
1/2 Cup finely chopped apple, peeled
LET'S PUT IT ALTOGETHER
1. Mash the banana in a mixing bowl.
2. Add the quick oats, LSA mix, sultanas and apple. Mix well. Allow to sit for 5 minutes to let the oats absorb some moisture from the banana.
It will be a thick consistency.
3. Place into a lined square cake tin and bake in a 189 degree oven for 20-30 minutes or until lightly browned in top.
4. Allow to cool and then slice into bars.
**you could add seeds to the mix as well.
RECIPE ANALYSIS FROM DIET CHAT
This slice sounds delicious!! We did a quick nutrient analysis for you all and if you make 15 serves from the mix then each serve will contain 445kj (105 calories), 3g protein, 16g carb and 3g fat. You could add diced dates or chopped nuts or even chia seeds to this mix. You could even warm up a slice and spread some riccotta on top and then a sprinkle of cinnamon YUM!
Great for a breakfast on the run, the kids school lunch boxes ( and even my lunch box).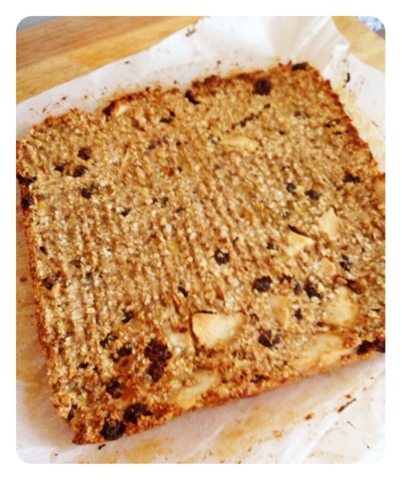 (Visited 8,690 times, 40 visits today)