INGREDIENTS
2 (500grams) Strawberries, stalks removed, do not wash make sure they are dry.
1 1/2 Cups Normal Sugar
The juice of 1 lemon
1/2 Tbs butter – this is added so a scum doesn't form on the surface.
LET'S PUT IT ALTOGETHER
1. Place the strawberries into a large saucepan.
2. Add the sugar and place over a low heat stirring occasionally until all sugar is dissolved.
3. Once the sugar is dissolved, add the lemon juice and butter and turn up to a high heat and allow to boil for 10 minutes.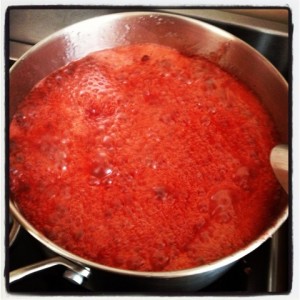 Test on the back of a spoon if it looks like it like it wants set then it is ready if not boil for another 5 minutes or until it is at setting consistency on the back of a spoon.

4. Place into a glass jar and allow to cool completely in the fridge.
HINT: just underripe strawberries are meant to be the best as there is more pectin to help with setting. Avoid using squishy overripe strawberries. They are best for baking.

Here is the link to my STRAWBERRY, PEAR AND LSA MIX MUFFINS.

(Visited 362 times, 1 visits today)