INGREDIENTS
125 grams butter, softened
2/3 Cup Caster sugar
1 Egg
1 Tsp Vanilla essence
1 Cup Plain Flour
2 Cups desiccated coconut
Strawberry jam – here is the link to my homemade strawberry jam.
LET'S PUT IT ALTOGETHER
1. With an electric beater, cream the softened butter and sugar in a large bowl for 1 – 2 minutes.
2. Add the vanilla essence and egg and beat until well combined.
3. Add the plain flour and coconut and mix with a wooden spoon until the mixture forms a dough and all ingredients are really well combined.
4. Roll tsp size balls and place into the holes of a mini muffin tray. Flatten once in the hole. Repeat until all mixture is used.
5. Using the end of a knife place little holes into the centre of the dough in each mini muffin hole. (Don't poke all the way through just enough to form a hole to fill with strawberry jam.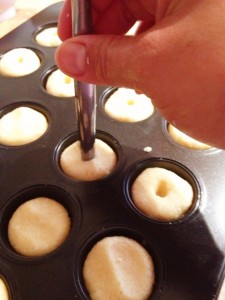 6. Place some strawberry jam into a zip lock bag. Cut a slit in one of the corners of the bag so that the jam will come out when squeezed. Squeeze a little jam into each hole.
7. Bake in a 180 degree Celsius oven for 15 minutes or until they are slightly golden.
8. Allow to cool slightly in the tray and then remove to cool further on a rack.

(Visited 11,592 times, 22 visits today)