Eat Seasonal is one of the biggest tips people will give you when you want to save money on your grocery bill. Well I did exactly that this week.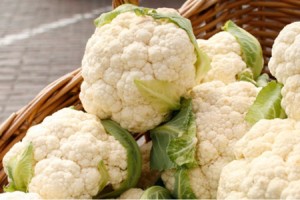 A whole Cauliflower for $1.70 is totally great value. When you buy a Cauliflower in season you are not only getting great value, you are also benefiting from so many nutritional benefits.
NUTRITIONAL BENEFITS
Cauliflower contains vitamins B1 (thiamine), B2 (riboflavin), B3 (niacin), B5 (pantothenic acid), B6 (pyridoxine) and B9 (folic acid). It contains omega-3 fatty acids and vitamin K. It serves as a good source of proteins, phosphorus and potassium. Cauliflower is a very good sourceof vitamin C and manganese, which are both powerful antioxidants.
It also helps with a myriad of other health problems and diseases.
CAULIFLOWER IS VERSATILE
Cauliflower is so versatile as it doesn't really have much flavour of it own what you add to your cauliflower is absorbed by it so you don't have any overpowering vegetable taste making it a perfect vegetable to smuggle into the kids meals.
A few years ago I made a
Cauliflower Bake
which is perfect with a roast meat dinner or on its own.
Here is my easy recipe for a Cauliflower Soup as well as how to turn it into a White Sauce to make a pasta bake the whole family can enjoy.
INGREDIENTS
1 Whole Cauliflower, cut into small chunks
4 Potatoes, cut into small chunks
1 Onion, cut
4 Cloves Garlic, sliced
2 Litres of Chicken or Vegetable Stock
White Pepper (I used black pepper, these are the small black flecks you can see. Use white pepper if you don't want to see it) and Salt
1/2 Cup Skim Milk
LET'S PUT IT ALTOGETHER
1. In a large pot on the stove add the onion, garlic and a splash of olive oil. Cook them until the onion softens.
2. Add the Cauliflower, Potatoes and enough stock to just cover the vegetables.
3. Simmer on medium heat until all the vegetables have become really soft.
4. Remove from the heat and add the milk and salt and pepper to taste, with a stick blender, blend until a smooth creamy consistency is achieved.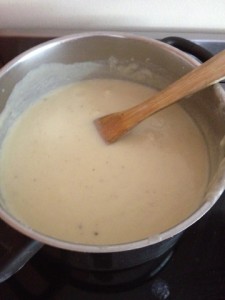 Serves 6-8
Freezer Friendly: Place individual serves in a zip lock bag and freeze. Remove from bag when reheating.
And that's it. Enjoy on its own or with some crusty bread.
Why not try adding some cooked bacon?
Now how do you turn this into a White Sauce and then a Pasta Bake?
It's quite simple, mixing warm cauliflower soup with some grated cheese you will have a white sauce or go one step further and make it into a pasta bake.
2 Cup of Cauliflower Soup
1 Cup Grated Cheese
4 Cups Under Cooked Pasta in any shape you like
Mix the Cauliflower Soup and Cheese and pour over the cooked pasta. Mix to coat and place in a baking dish and bake at 180 degree Celcius for 30 minutes or until the top is lightly browned.
To this base you can add, cooked bacon, peas, corns any vegetable that has been pre cooked to make a complete meal.
Double the batch to make enough for leftovers, simply reheat in the microwave.
Serves 4

(Visited 4,505 times, 13 visits today)