INGREDIENTS
1 Whole Pumpkin, peeled, deseeded and cut into chunks – I used JAP, butternut would be preferable as it is sweeter
2 Medium sweet Potatoes, peeled and cut into chunks
1 Onion, peeled and cut into chunks
2 Cloves garlic, peeled
6 Cups Chicken Stock
2 Tsp Gourmet Garden Thyme or 1 Tsp Fresh
Pepper to taste
LET'S PUT IT ALTOGETHER
Place All ingredients into your slow cooker.
Set to low and cook for 8 hours or on high and cook for 4 hours.
Once all vegetables are soft, turn the slow cooker off and place a stick mixer into the slow cooker where the ingredients are and blend until smooth.
You can also ladle the ingredients into a food process or blender.
Enjoy with crusty bread or these Cheese and Herb Muffins.
Optional: Add some cream before serving


SERVES: 4 – 6


FREEZR FRIENDLY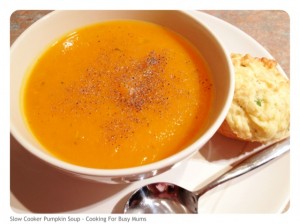 (Visited 24,859 times, 21 visits today)