PIZZA/PASTA SAUCE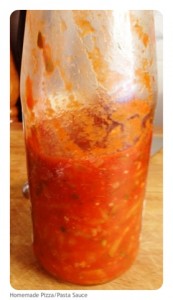 1 700 gram jar of Passata
1 Zucchini, grated
1 Carrot, grated
1 Onion, sliced finely
1/2 Capsicum, diced
2 Tsp Gourmet Garden Basil
2 Tsp Gourmet Garden Chunky Garlic
1 Tsp Sugar
Salt and pepper to taste
Place zucchini, carrot, onion, garlic paste, capsicum and basil in a small saucepan with a little olive oil and cook stirring continually until the vegetables start to soften.
Add the Passata, sugar and salt and pepper. Continue to stir and bring to the boil.
Reduce to a slow summer uncovered stirring occasionally for 1 hour.
If it begins to thicken add a little water.
Bottle in a sterilised jar and store in the fridge for up to a week.
Alternatively freeze in small portions in an ice cube tray to add to the littlies meals as needed.


PIZZA BASE
14 grams dry yeast
3 Cups Plain Flour
3 Tbs Olive Oil
2 Tsp Sugar
Pinch Salt
1-2 Cups warm water
Place the flour and salt in a large bowl.
Place the yeast and sugar in a jug and add 1 cup warm water, stir and allow to sit until the mixture starts to froth. This is when you know the yeast has been activated and is ready to add to the flour.
Add the yeast mixture to the flour and salt and stir with a knife.
Place the mixture onto a floured surface and knead for about 5 minutes until the dough forms a soft ball.
Place back in the bowl and sit in a warm position with a hand towel over it.
It will double in size, this is when you can 'punch' it back down knead for 30 seconds and return to the bowl until you are ready to use it.
Time: approx 3 hours for the rising process.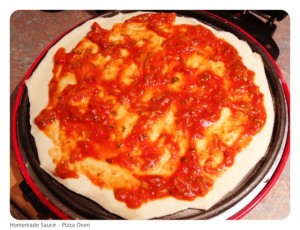 PIZZA ASSEMBLEY
I have an electric pizza oven that I have owned prior to hubby and kids and it is my all time favourite kitchen appliance. I can have a pizza cooked in 10 minutes with a crispy base.
If you don't have a pizza oven the oven will work just as good, you can get pizza trays with holes in the bottom for the oven that help to give a crispy base or why not make a rectangle one from a standard baking tray.
Roll out your base
Cover with sauce
Add your favourite toppings.
Mr 2.5 helps make his own pizza and I find that he will eat all of it as he has chosen what he wants on it. His favourite topping is Olives – I think I may of ate too many when he was on the inside lol.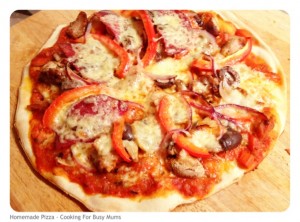 (Visited 1,155 times, 2 visits today)