I am not a big fan of celery and I think my mum already knows this from the many occasions growing up she would find all the celery picked out of meals and placed around the edge of the plate.
I had made a Beef & Vegie Pearl Barley soup yesterday (which I will blog later) and it really needed celery so I bit the bullet and added a stalk cut up, ok I could bear it in the soup I may of skipped the larger pieces but it wasn't too bad (the soup itself was delicious).
I can't put my finger on exactly what it is that I don't like about celery but I guess it is my no go food. I would definitely NOT eat it raw, in a soup I can semi bare it hence why I found myself in a situation of don't throw out the celery.
I had the remainder of the celery bunch leftover as well as some bacon hanging around in the fridge and a few minutes to spare this afternoon so I thought why not let's give this soup a go.
It was easy to make and guess what I loved it, the bacon did help to hide some of the celery flavours but all in all the hint of celery wasn't too bad and I think I would make it again if I found my self with celery in the fridge.
INGREDIENTS
1/2 Bunch Celery, sliced
4 Rashers of bacon, diced
1 Onion, sliced
4 Garlic Cloves. sliced
2 Cups Chicken Stock
2 Cups Milk
2 Sprigs of Thyme or 1 Tsp dried Thyme or Gourmet Garden Thyme
Salt and Pepper to taste
LET'S PUT IT ALTOGETHER
1. In a large pot over a medium to high heat add the bacon, onion and garlic. Cook stirring regularly until they all begin to soften. Approx 15 minutes.
2. Add the celery and thyme and cook for another 15 minutes until the celery softens, stirring regularly.
3. Add the chicken stock and milk, bring to the boil and then reduce to a simmer.
4. Simmer for 30 minutes with the lid on, stirring occasionally.
5. Using a stick blender or a food processor, blend the soup until smooth ( there will be some small bacon pieces which I like as they give the soup some texture).
Finish with salt and pepper to taste.
This would also be nice served with croutons or a crusty bread roll.
Serves approx 2 – 4 and would be perfect as an entree.
Freezer Friendly: place serves into a zip lock bag and freeze. To reheat either thaw the soup first or place the frozen soup in the bag in a microwave safe dish and microwave for 1 minute then remove the bag and continue to heat.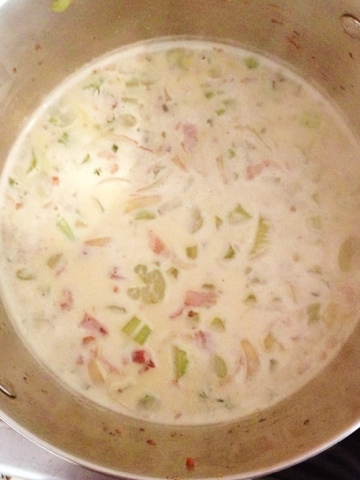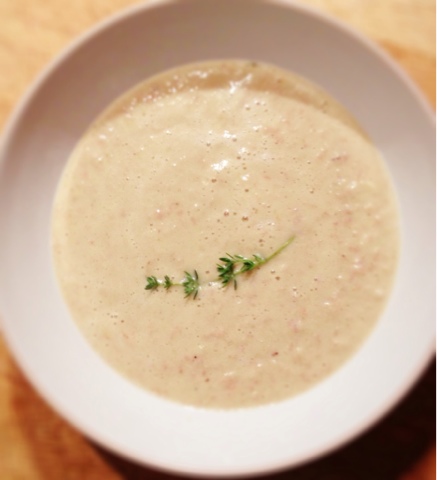 (Visited 1,072 times, 29 visits today)