Aren't soups great? You can pack a load of vegetables into one meal and most of the time not even realise how much goodness you a really getting.
Now Broccoli Soup is GREEN so it can be a little off putting for the smaller members of the family but that shouldn't mean that you should miss out on a delicious soup.
The batch I made I froze portions in zip lock bags to take to work for my lunch, simply reheating in the microwave. So much cheaper and healthier then the powder cup a soups.
This soup is also great if you a watching what you are eating as it is low in fat.
You only need a few ingredients and 30 minutes and you will have this soup made.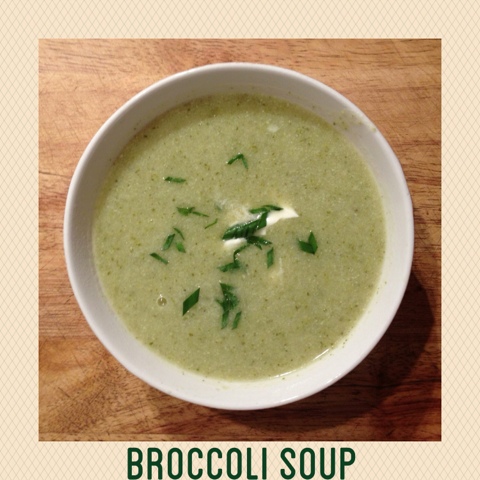 INGREDIENTS
2 Broccoli Heads, cut into small pieces
4 Potatoes, cut into small pieces
2 Stick Celery, cut
4 Cloves Garlic
1 Onion, chopped
2 Litres Chicken or Vegetable Stock
Salt and pepper to taste
3/4 Cup Skim Milk
Garlic Chives and Sour Cream to Serve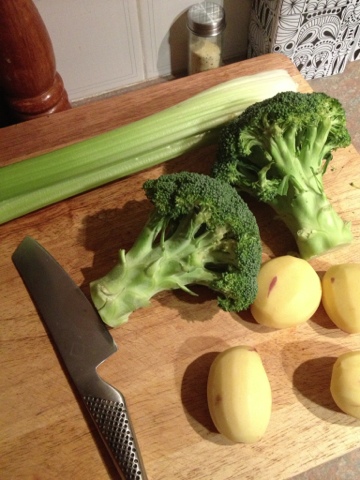 LET'S PUT IT ALTOGETHER
1. In a large saucepan place a little olive oil, the onion and garlic. Cook until the onion softens.
2. Add the remaining vegetables and enough stock to just cover the vegetables.
3. Cook for 30 minutes on a medium heat until all the vegetables are soft.
4. Add the milk and salt and pepper as required.
5. Using a stick blender, blend until smooth.
6. Serve with garlic chives and a dollop of sour cream.
Enjoy with some crusty bread.
Serves 4-6
Freezer Friendly – once cooled place in zip lock bags and store in the freezer. To reheat remove from the bag and place in a microwave safe dish.

(Visited 1,352 times, 2 visits today)