I hardly make lasagna and I absolutely love it. I have many fond memories of my mum making 2 large trays of lasagna which we would eat several meals from whether it be dinner or leftovers for lunch. The memories I can recall was that it always seemed like a lot of work. If I look at it from a different angle mum was actually making about 4 meals at once hence why I thought lasagna takes along time to make. Also, while the sauce was cooking and the lasagna was baking my Mum was most likely doing other things in the home that as a child I was oblivious too but recognise now that I am a Mum.
In reality lasagna it's much more effort to make then a spaghetti Bolognese, is it? I organised myself on Sunday morning and while we were pottering around getting ready I put on a pot of spaghetti Bolognese sauce so I could make lasagna for dinner after work on Monday. With the bulk of the meal ready to go, all I had to do was make a white sauce and layer the ingredients and bake.
I will have to remind myself that lasagna isn't a meal that takes a lot of work, if you plan it you can have it for dinner after being at work all day.
Lasagna is perfect for pre-making and storing in the fridge to be baked the next night and also for cooking and freezing in portions that just need to be reheated.
INGREDIENTS
Lasagna sheets either fresh or dry
White Sauce
100 gm butter or light margarine
2 Tbs Plain Flour
3-4 Cups Milk
1 Cup Grated Cheese
LET'S PUT IT ALTOGETHER
1. Make your spaghetti bolognese sauce mix as per directions.
At this point either place in a container in the fridge to use the next day or continue to make the lasagna
2. Make the white sauce, place the butter in a medium sauce pan and melt. Once melted add the plain flour and stir for approximately 1 minute. Whisk in the milk and continue to whisk every 30 seconds or so making sure you don't burn the bottom on the mixture. After about 8 minutes it should start to thicken, remove from the heat and add the cheese mixing well to combine.
Flavour with a little salt or nutmeg if you like.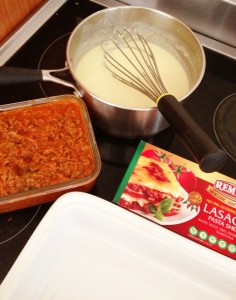 Spaghetti Bolognese Sauce, White Sauce, Pasta Sheets
3. Begin to assemble I start with a layer of mince, layer of pasta sheets repeating for another two time until I am left with no mince and a layer of lasagna sheets on top. Pour over the white sauce and add a little extra grated cheese.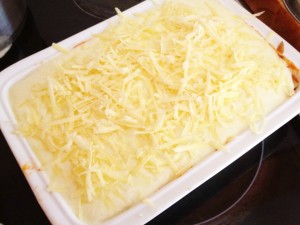 4. Bake in a 180 degree Celsius oven for approx 20 minutes or until the top is golden brown and you can see the mince mixture bubbling up on the sides.
Serve with a leafy green salad.
Serves: 4-6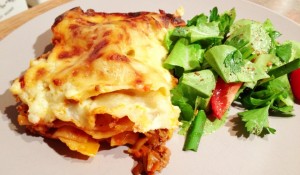 (Visited 3,017 times, 9 visits today)