The slow cooker graced my bench again this week cooking another deliciously easy dinner that the whole family enjoyed.  Slow cooker mild beef curry is so easy to put together and the smell you are greeted to when you return home in the evening makes you instantly hungry and lucky for you – dinner is ready.  Thank you Mr slow cooker and thanks to myself for taking an extra 10 minutes in the morning before I left for work to get it all started so it could cook all day.
I have used a premade curry paste in this recipe for the simple fact, I ain't got no time for making curry paste.  Nor do I have the eleven billion ingredients you need to make a curry paste.  I pick my premade store bought items wisely and this is one I don't have time to attempt at home.
Whack the ingredients into your slow cooker and you will be high fiveing yourself when you get home in the evening to the best dinner you will have all week (because you didn't stand over the stove cooking it- oh and it tastes amazing too).
INGREDIENTS
1kg Beef Chuck Steak, cut into cubes
1 Onion, sliced finely
1 Tbs Minced Garlic
4 Potatoes, cubed
1 Carrots, diced
1 Celery stalk, sliced finely
1/2 Jar Pataks Mild Butter Chicken Curry Paste
1 Can Diced Tomatoes
200ml Light Coconut Milk
LET'S PUT IT ALTOGETHER
1. If your slow cooker has a saute function like mine does, add the onion, minced garlic and beef to the bowl and cook until the beef browns.  Alternatively do this step in a fry pan on the stove and then add to the slow cooker.
2. Add the remaining ingredients and mix well to combine.
3. Set on low and cook for 10 hours.
Serve with cooked rice or
quinoa
.
Serves 8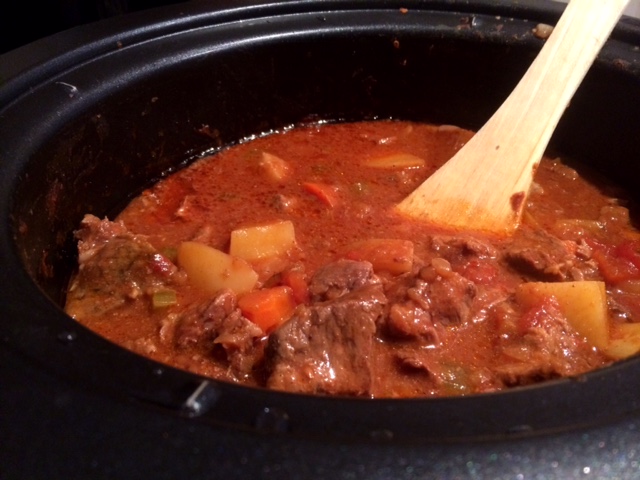 (Visited 35,121 times, 18 visits today)