With many requests for gluten free variations to some of my baked recipes I have decided to add  more gluten free recipes.  Because we don't need to eat gluten free as a family, I don't bake this style of recipe.  So I am stepping out of my comfort zone and getting some gluten free recipes up for you to try.
This Gluten Free Banana Cake/Bread is an easy one bowl mix.  It doesn't require a lot of ingredients and has a lovely texture and flavour.  My favorite part is the caramalised edges, yum.  I am using coconut flour and arrowroot (tapioca flour) as my gluten free flour substitutes.
This recipe is gluten free, dairy free and nut free.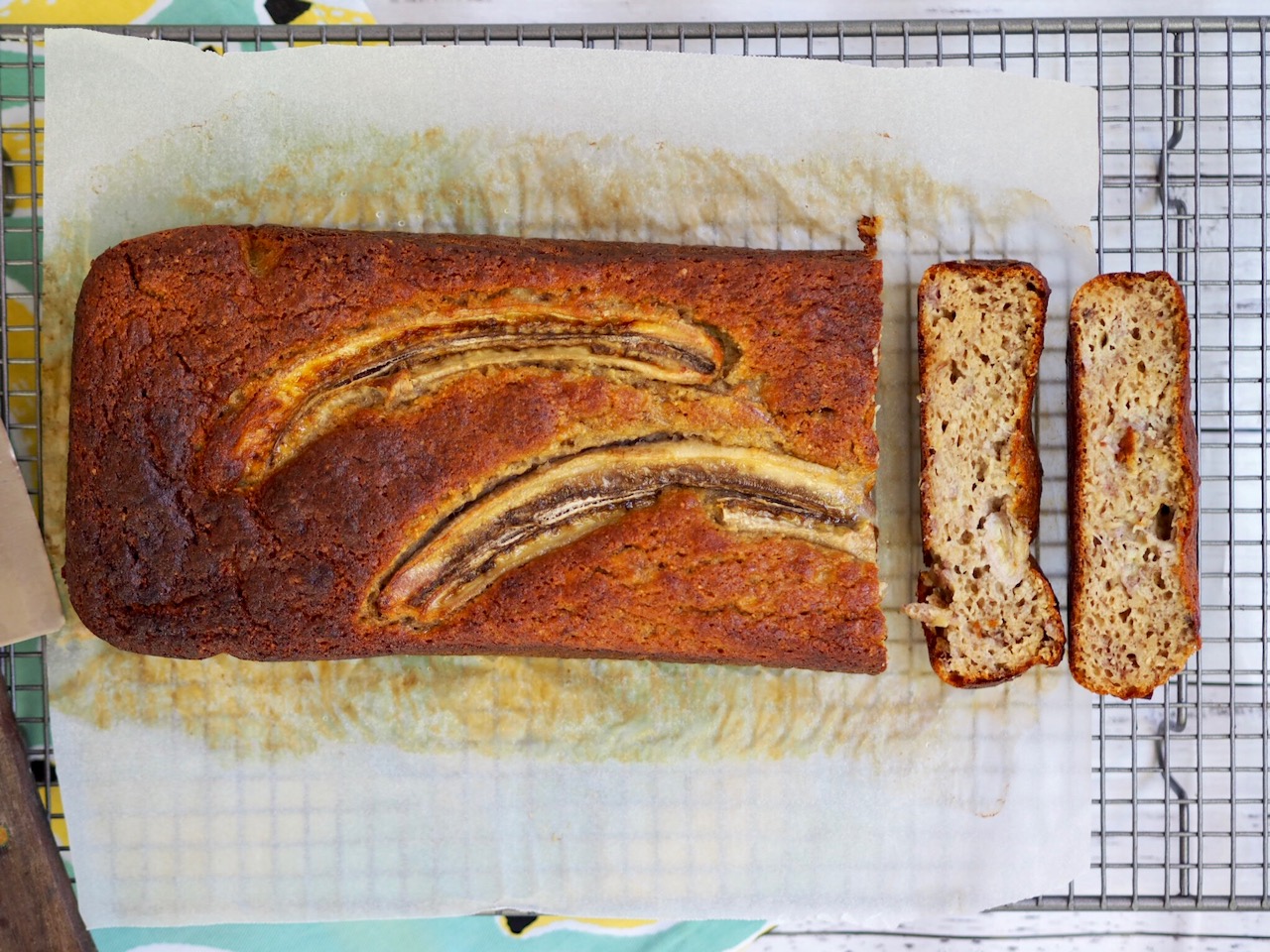 INGREDIENTS
5 Large Eggs
4 Overripe Bananas, peeled and mashed
1/4 Cup Light Olive Oil
3/4 Cup Coconut Flour
1/4 Cup Arrowroot (tapioca flour)
1/2 Cup Raw Sugar
2 Tsp Baking Powder
1 Tsp Cinnamon, ground
1 Extra overripe banana for the top
LET'S PUT IT ALL TOGETHER
Preheat the oven to 150 degree Celsius.  This cake will cook long and slow.
In a large mixing bowl add the eggs and whisk lightly.
Add the bananas and olive oil and mix through.
Add the coconut flour, arrowroot, sugar, baking powder and cinnamon and mix until combined.
Pout into a lined baking tin. Cut the extra banana in half length ways and place on top.  Place into the preheated oven to cook for 1 hour or until the cake bounces back when touched and a skewer comes out clean when inserted in the middle.
Once cooked, remove from the oven and allow to cook for 20 minutes in the pan before removing and placing on a cooling rack to cool completely.
Makes approx 12 slices.
Store in the fridge in an airtight container for up to 7 days.
Freezer friendly: individual slices can be wrapped in cling wrap and frozen in a freezer safe container for up to 3 months.

(Visited 3,256 times, 15 visits today)