This is delicious variation on a traditional cottage pie.  Combining the winning flavour combination of chicken and bacon with mashed potato and vegetables this dish is wholesome and hearty.  The chicken and bacion filling can also be used as a pie filling.
While I have only used carrots in this dish you can use the frozen three vegetable mix of peas, corn and carrots to increase the variation.  I unfortunately still have two boys that don't love peas and corn.
I am using my favourite D'Orsogna 100% Natural Bacon. Created using only the finest naturally-derived ingredients, our Natural Bacon contains nothing artificial, as well as being free of gluten and any added nitrites. Presented in an easy-use twin pack, so you can use half in this dish and the other half for Sunday morning bacon and eggs.  You will find it at your local Woolworths.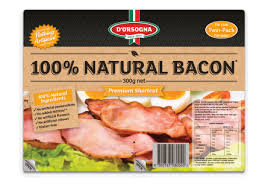 INGREDIENTS
2 Tbs Olive Oil
150gm D'Orsogna 100% Natural Bacon
1 Onion, diced
1 Tbs Minced Garlic
2 Carrots, diced
2 Large Chicken Breasts, cubed
2 Tbs Plain Flour
Salt and Pepper, to taste
1 Tbs Fresh Thyme (or 1 Tsp Dried Thyme)
250ml Chicken Stock
2 Tbs Thickened Cream
1/2 Cup Grated Tasty Cheese
For the mashed potato:
5 Large Potatoes (unwashed varitey), peeled and cubed
1/2 Cup Thickened Cream
LET'S PUT IT ALL TOGETHER
1. Cook the potatoes as you normally would to make mashed potatoes, (in a large pot with the potatoes covered with water, bring to the boil and continue to cook until the potatoes are soft, drain the water, add the cream and mash until smooth).
2. While the potatoes are cooking, place a large non-stick fry pan over a high heat.  Add the 1 tbs oil, bacon, onion, garlic and carrots.  Cook stirring frequently until the onion softens and the bacon begins to lightly brown.  Once cooked, remove from the pan.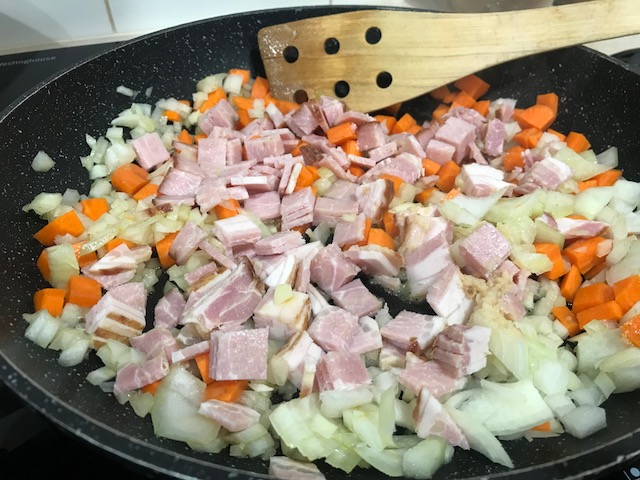 3. Dust the uncooked chicken in the flour and salt and pepper, add to the fry pan along with 1 tbs olive oil and the thyme.  Cook stirring regularly until the chicken browns.  Return the bacon and vegetable mix to the fry pan.  Pour in the chicken stock and mix through.  The sauce should start to thicken, reduce to a simmer and then add the cream and stir through.  Leave to simmer for 5 minutes.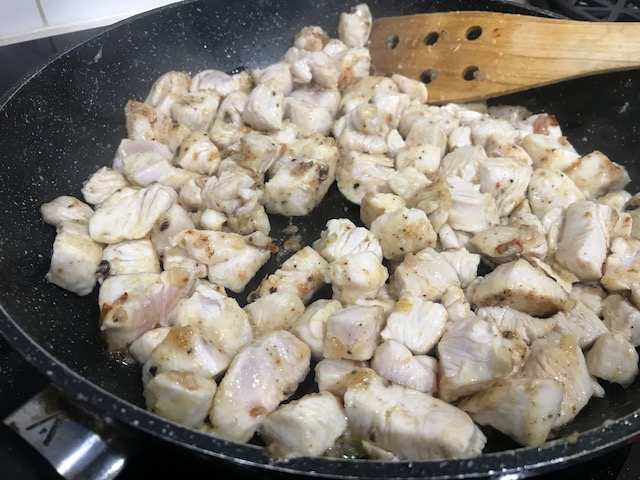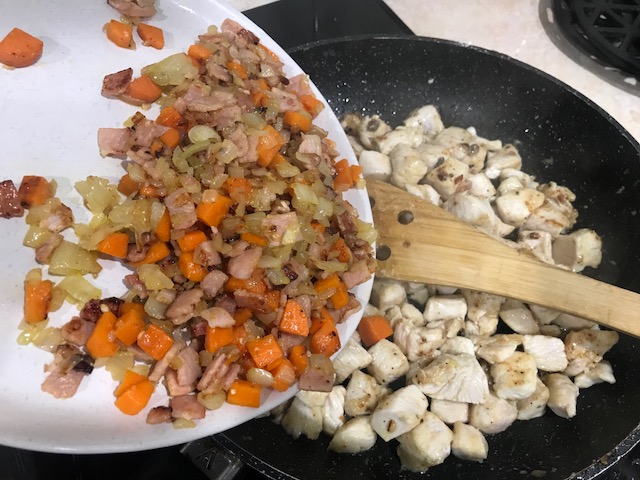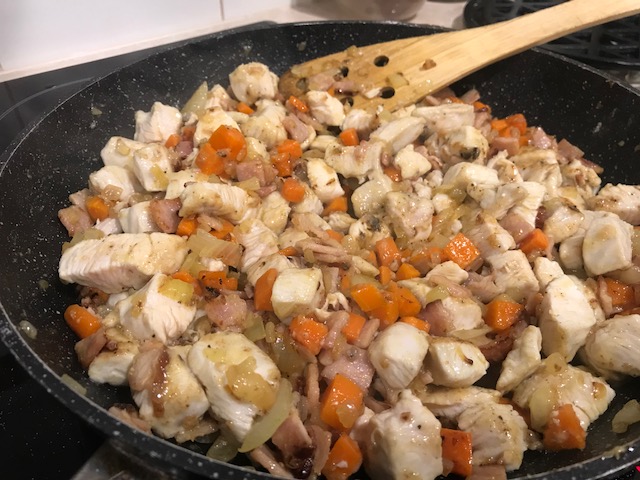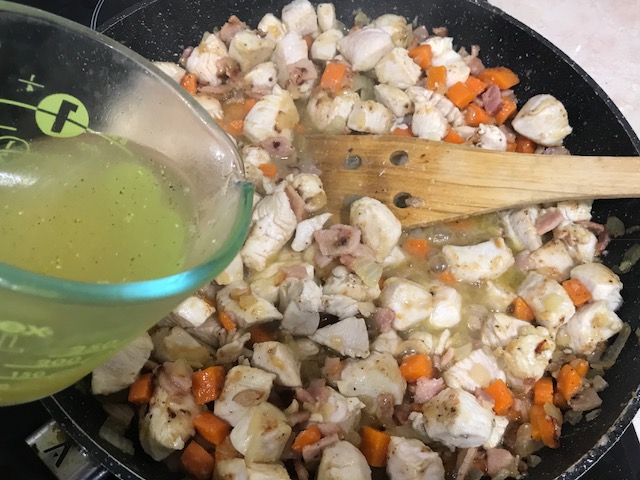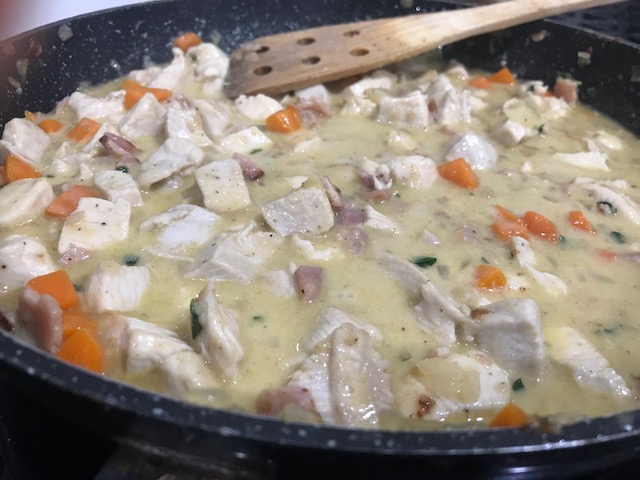 4. Take a suitable baking dish and line the bottom with half the mashed potato, spoon in the chicken and bacon filling and then top with the remaining mashed potato, sprinkle over the grated cheese and place into a preheated 180 degree Celsius oven for 30 minutes or until the cheese is melted and golden and the filling is bubbling around the edges.
Enjoy as is or sere with extra steamed vegetables.
Serves 6
Store leftovers in the fridge in an airtight container for up to three days.  Reheat before serving.
Freezer friendly: store portions in freezer safe air tight containers for up to 3 months.  Defrost in the fridge before reheating to serve.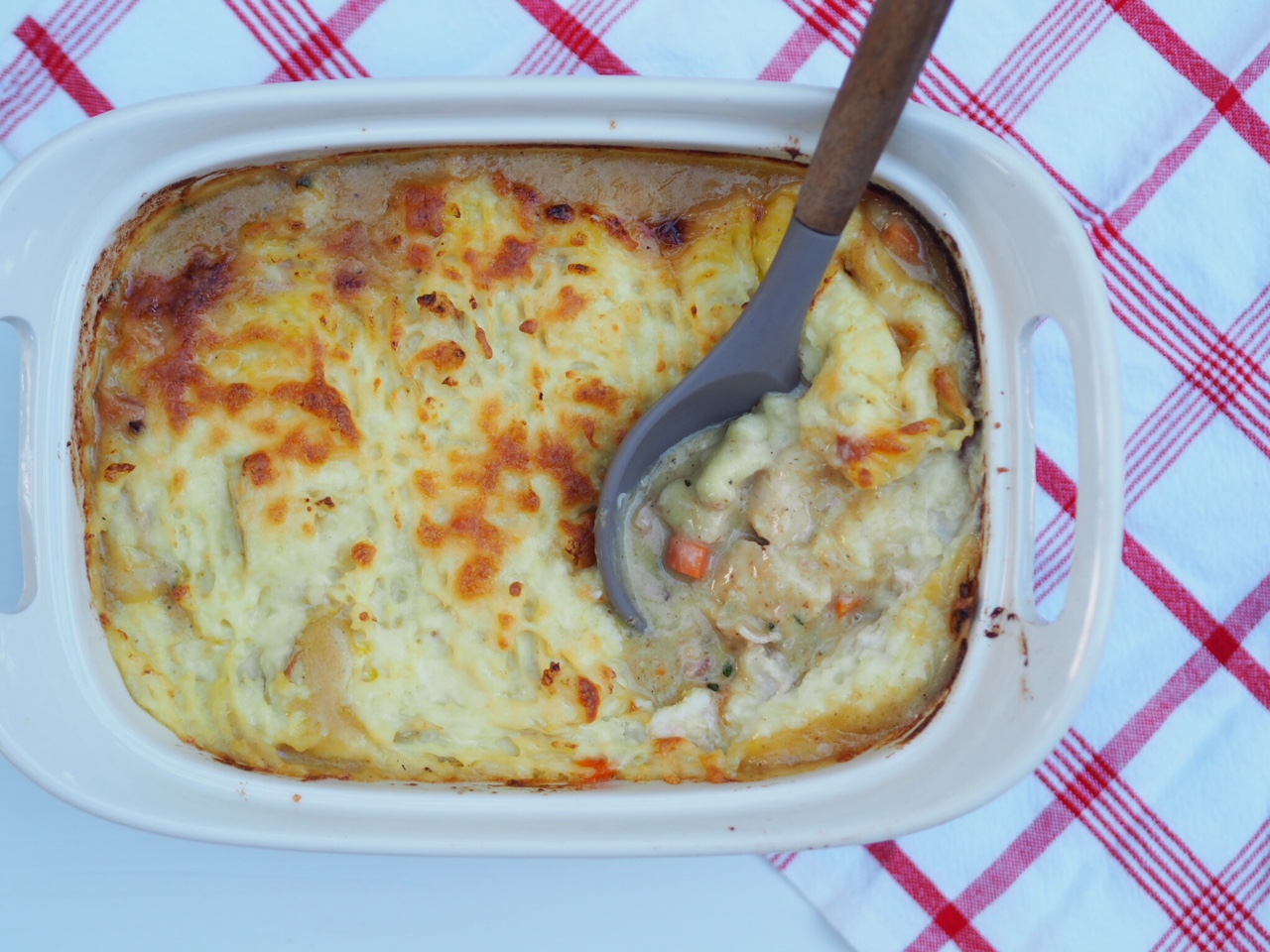 The chicken and bacon also doubles as a delicious pie filling.  Simply use defrosted puff pastry cut into quarters and then placed into a greased muffin tray, add the filling and some mashed potato and top with more puff pastry.  Bake at 200 degree Celisus for 15 minutes or until the pastry is puffed and golden.
This is a sponsored post for D'Orsogna. Find more recipes like this one visit the D'Orsogna Website and D'Orsogna Facebook Page.

(Visited 8,080 times, 40 visits today)