Skewers on the BBQ are such a versatile and quick and easy dinner to make during the week, especially after work or late home from the kids after school commitments.
I made there super delicious Chicken Basil Pesto skewers with the fresh Basil Pesto I made (this was the second batch).  It as simple as coating cubed chicken thigh pieces in the basil pesto, adding a little extra olive oil and the threading onto a skewer. You could make them up in the morning or even the night before and cook the in the evening.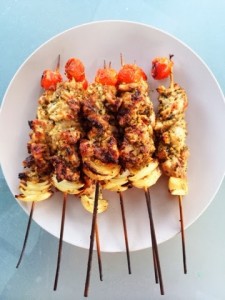 INGREDIENTS
1/2 Cup Basil Pesto, homemade or bought is fine
Olive Oil
5 Chicken Thighs, cubed
Cherry Tomatos
Onion, cut into thick wedges
Why not try adding: capsicum and zucchini chunks
LET'S PUT IT ALTOGETHER
1. In a medium bowl place the cubed chicken, basil pesto and olive oil. Mix to coat the chicken pieces. You can use it straight away or allow to sit for 30 mins to overnight. Soak the wooden skewers in water for a couple of minutes.
2. Thread the coated chicken cubes and vegetables on to the skewers alternating as you like and finish off with the cherry tomato.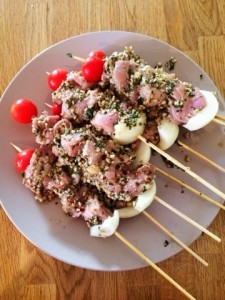 3. Cook on the BBQ for approx 10 – 15 minutes or when the chicken feels firm to touch.
Makes 10 Skewers 

Serve with a side salad, couscous etc.

(Visited 584 times, 1 visits today)