Last year I bought six little seedlings if Basil and six little seedlings of Marigolds in the hope they would deter pests from my tomato seedlings. Well that didn't happen, the Basil and Marigolds flourished and the tomato plants still got eaten. Moving forward a year, after the Basil and Marigolds went to seed I now have new Basil and Marigold plants that didn't cost me a thing, winning! They have both overgrown so I thought it was time to make some Basil and Cashew Pesto before they go to seed again.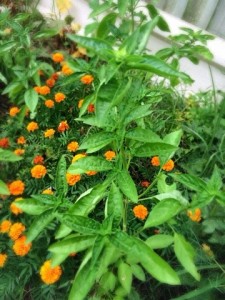 My overgrown Basil and Marigolds
This pesto has a lovely mild sweet flavour from the cashews instead of the traditional pine nut pesto which makes it very family friendly when added to a meal. The pesto could even be used as a dip it's that delicious.
INGREDIENTS
2 large handfuls of fresh Basil
1 small handful of raw cashews
1/4 Cup Olive Oil
Squeeze of lemon juice
1/4 Cup Parmesan Cheese ( I used the Parmesan you find on shelf (not fridge) pre grated as that's what I had in the house) but you could use fresh.
Salt and pepper to taste
LET'S PUT IT ALTOGETHER
1. Simply place all ingredients to a food processor and process with the metal blade until everything is really well combined and chopped up.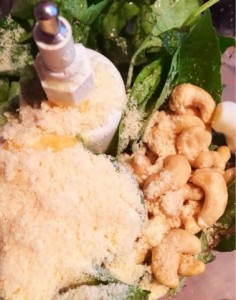 2. Place in a sterilised jar and top with extra olive oil. Store in the fridge for 5-7 days.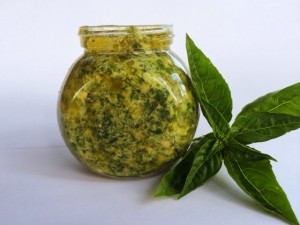 Freezer Friendly: Can also be frozen for up to three months. Place in a zip lock bag and when you want to add to a hot meal cut off what you need place into the dish and return the rest to the freezer.

(Visited 393 times, 4 visits today)