This dish is a perfect weeknight dinner that you can have on the table in about 15 minutes. While your pasta is cooking your chicken and sauce will be cooked and your ready to go, now that is easy.
I used my
Homemade Homegrown Basil and Cashew Pesto
for this recipe and it worked a treated. Alternatively, you could of course use store bought Basil pesto and achieve the same results with only the flavour being different depending on the basil pesto brand you buy.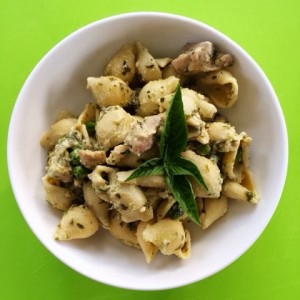 A great family friendly meal. If your littlies are a little suspicious of "green things" in their food, a little trick I have been using is to put the food in a green bowl to help camouflage the colour 🙂
INGREDIENTS
250 ml of light thickened cream or natural Greek yoghurt
1 Cup Frozen Peas
5 Chicken thighs, cubed not too small otherwise the meat will dry out
5 Cups dry shell pasta (or any shape you have)
Salt and Pepper to taste
LET'S PUT IT ALTOGETHER
1. Place a large pot on the stove full with water to cook the pasta, bring to the boil then add the pasta and some salt if you like.
2. While the pasta is cooking, in a hot deep fry pan ( I used an electric wok) add a little olive oil and the chicken. Cooking stirring occasionally for 5 minutes or until the chicken lightly browns.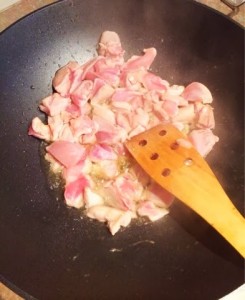 3. Add the pesto and stir to coat the chicken, cook for a further minute.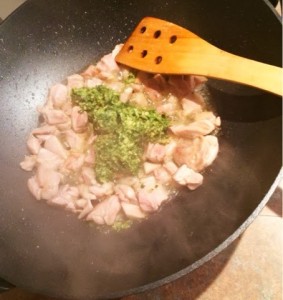 4. Reduce to a medium heat, add the cream, peas and salt and pepper to taste. Stir then simmer for 5 minutes.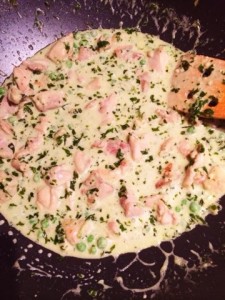 5. Remove the chicken from the heat. The pasta should be cooked by now (12 Minutes, approx). Drain excess water then add the pasta to the chick and sauce. Stir well to combine and serve.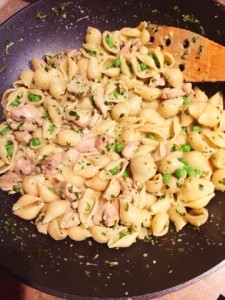 Optional: serve with extra Parmesan sprinkled on top.
Serves: 4-6 adults
Great for leftovers: enjoy for lunch cold the next day.

(Visited 2,245 times, 4 visits today)