I was getting close to shopping day and was dealing with one of those work with you've got moments, this lead to me making this lovely Coconut Curry Rice. It is perfect as a side dish or with the addition of some chopped up scrambled egg or even chicken pieces you can have a complete meal.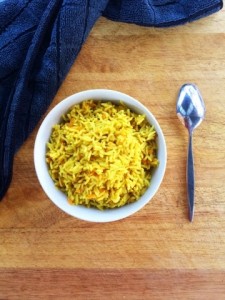 You get the lovely undertone flavour of coconut along with the more prominent flavour from the curry. It is a lovely yellow colour which makes it appealing to younger children. Feel free to add more or less curry powder to suit your family.
If I had some more vegetables in the fridge or freezer I would of added some peas, corn or capsicum to boost the vegetable content.
We enjoyed it as a side dish.

INGREDIENTS
1 Can Light Coconut Milk
200 ml Chicken or Vegetable Stock
1 Tbs Curry Powder
1 Carrot, Grated
1 1/2 Cups of Rice (Basmati or long grain)
1 Onion, diced finely
2 Garlic cloves, minced
Olive Oil
LET'S PUT IT ALTOGETHER
I cooked this in the Kambrook Quatro cooker which has a saute and rice cook mode. If you have a similar appliance you can do the same, otherwise this will work in a heavy bottom saucepan or casserole dish on the stove top.
1. Saute the onion, garlic and grated carrot with a little olive oil, one the onion and garlic start to soften add the rice and curry powder and stir to combine until the curry flavour is released.
2. If using the Quatro cooker, turn off and change to rice mode and turn back on. If cooking on the stove turn to a medium high heat. Add the coconut milk and chicken stock. Stir to combine.
3. If using the Quatro cooker leave it to cook on rice mode and it will automatically change to warm when finished.
If cooking on the stovetop bring to the boil, then reduce to a low simmer, cover with the lid and allow to cook for 10-15 minutes then turn off the heat completely.
Fluff up with a fork when ready to serve.
If you are adding extra vegetables make sure they are cut into small pieces. Add frozen vegetables when adding the liquid, add fresh vegetables when sauteing the onion, garlic and carrot.
Serves 4-8
Mr 4 really enjoyed this rice, he had two helpings which means it must be good. I also enjoyed it the next day for lunch.

(Visited 6,606 times, 9 visits today)