How good is Strawberry season?  It does have feel like it has taken a little longer to hit than normal.  Up to a couple of weeks ago strawberries were still upwards of $3 for a 250gm punnet, you can now grab one for $1 which means we can makes gluts of ourselves and eat them, cook with them and freeze some for smoothies.
I made this Strawberry Yoghurt Cake last week to take into work for morning tea, they did ask me if they were being my guinea pigs for testing a new recipe and I said yes, they laughed and gobbled it all up which means it got the thumbs.  Secretly I had wished I had one more slice to enjoy as it was just that good, looks like I will have to make another one this week.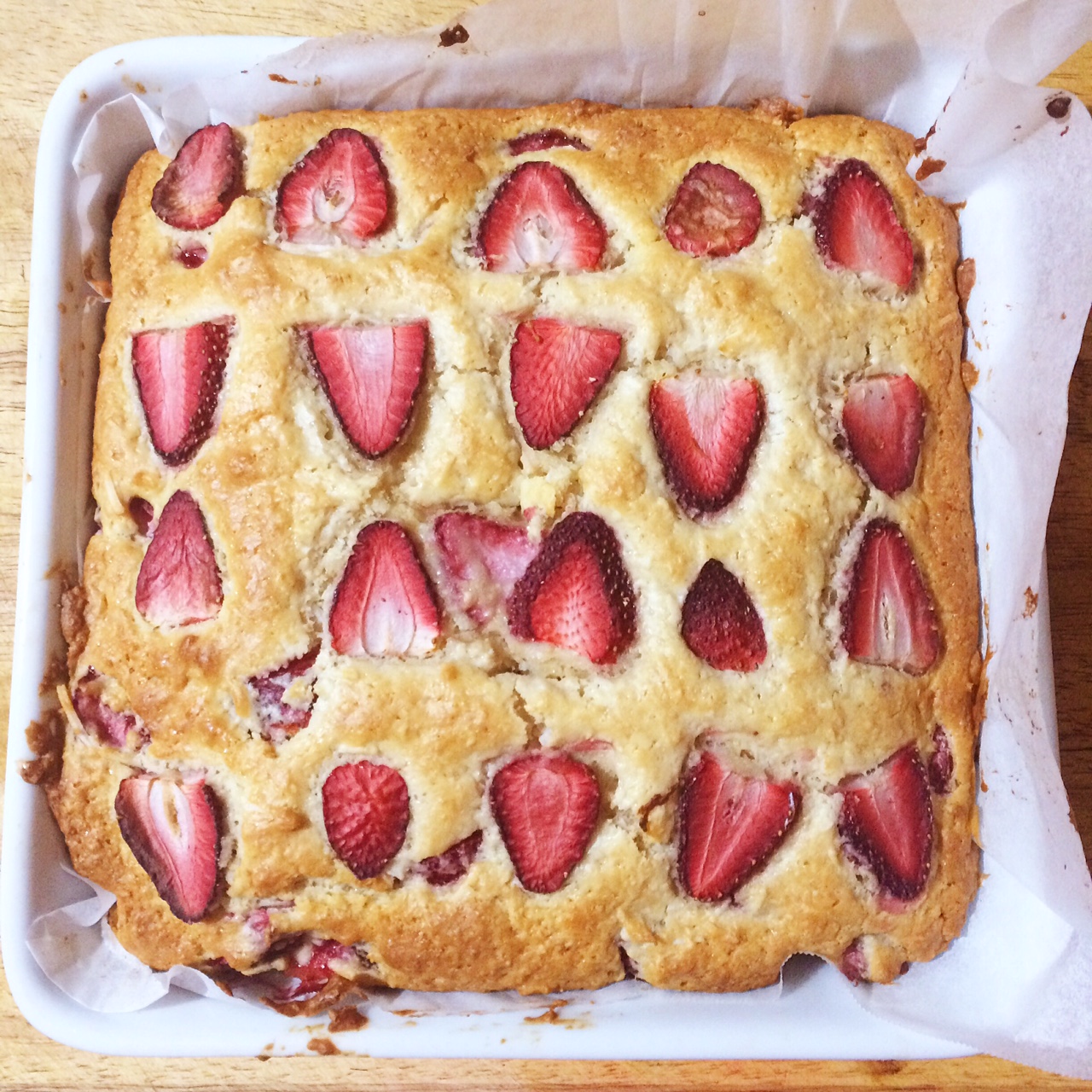 INGREDIENTS
250gm Strawberries, stem removed and sliced
1 Cup Self Raising Flour
1 Cup Wholemeal Self Raising Flour
1/2 Cup Raw Sugar
1/4 Cup Shredded Coconut
1 Egg
1 Cup Low Fat Greek Yoghurt, plain
1ooml Olive Oil
LET'S PUT IT ALL TOGETHER
1.  This can be made in a food processor, thermo style appliance, stand mixer or simply mixing by hand.  Place all the ingredients except the strawberries into the bowl and mix or process until combined.
2. Add the strawberries, reserving a handful for the top and mix to just combine.  You don't want to over mix otherwise the mix will turn pink.
3.  Pour into a lined 20cm x 20cm can pan, lay the reserved strawberries on the top and bake in a 180 degree Celsius oven for 45 minutes to 1 hour or until it is golden on top and bounces back when touched.
Allow to cool before slicing.
Serves 16
Store in an airtight container in the fridge for up to 5 days.
Freezer friendly: wrap serves in clingwarp and freeze for up to 3 months.  Take out and place straight into the lunchbox (it will defrost by lunchtime) or leave on the bench to defrost before eating.
Looking for some more great recipes with dairy for your family? Head over to The Dairy Kitchen blog or like The Dairy Kitchen Facebook Page

(Visited 15,110 times, 15 visits today)