INGREDIENTS
1kg of Rump Steak, cut into 4 serves and dusted in plain flour
1 Tbs minced Garlic
1 Onion, sliced
1 Cup Beef stock
2 Tbs Black Pepper Corns
2 Tbs Worstershire Sauce
4 Bay Leaves
1/3 Cup Sour Cream
1 Cup Snow peas
Salt and pepper to taste
Vegetables cut up to bake separately in an oven tray – I have carrot, potato, sweet potato
4 Serves of cooked pasta
LET'S PUT IT ALTOGETHER
1. Place a casserole dish into a hit stove. Add some olive oil and allow to heat.
2. Add the onion, garlic and pepper corns and cook for 2 minutes.
3. Add the flour dusted steak to the casserole dish and brown.
4. Add the beef stock, bay leaves and Worstershire sauce.
5. Stir, remove from the heat and put the lid. Place in a 150 degree oven and cook for 1-2 hours.
6. In a separate baking dish add your choice of chopped vege. Place a little water into the dish along with salt and pepper. Cover with aluminium foil and place in the oven below t he casserole dish to cook.
7. In the second hour remove the casserole dish and turn the oven up to 200 degrees. Remove the aluminium foil from t he vegetables and allow them to cook for a further 20 minutes uncovered.
8. Remove the bay leaves and add the sour cream and snow peas to the casserole dish and mix through.
Serve over cooked pasta and with the baked vegetables on the side.


REMOVE PEPPER CORNS BEFORE SERVING TO THE LITTLIES


NOTE: You can use a cheaper cut of meat and cook for longer 3-4 hours in the oven or 8 hours on low in a slow cooker.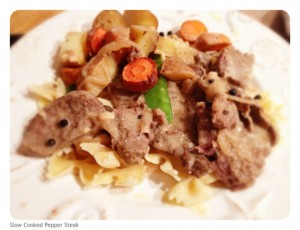 (Visited 989 times, 1 visits today)