A couple of weeks ago I was asked by the creator of The Little Green Pouch if I would like to review their product. Of course I would. My boys love sucking there yoghurt's from the pouches you buy in the supermarket, but they are also quite expensive. I have tried another brand of similar to The Little Green Pouch but found they deteriorated rather quickly and were hard to clean and fill (due to the small opening).
The Little Green Pouch is all kinds of cute. I love the colour as you can fill it with all questionable types of food and the very little ones won't be turned off by the colour of some of the food we like to give them pureed up. Think spinach, broccoli, zucchini, eggplant (you get the idea).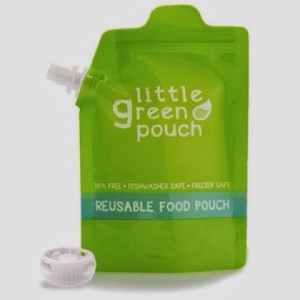 Before I get to the super easy yoghurt smoothie I made, that can also be frozen for school lunch boxes, I want to quickly share The Little Green Pouches features and some cute photos from their website.
They are: Fill-able, Reuse-able, Dishwasher-able, Freeze-able, Squeeze-able.
Made from durable BPA-free, PVC-free & phthalate-free plastic.

With these features they pass the Busy Mum Test. How great is it that you can even add a spoon attachment.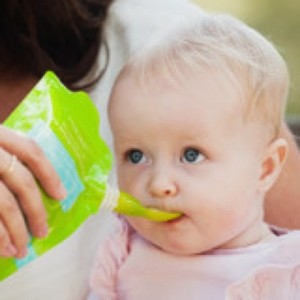 What can go into The Little Green Pouches?

Baby Puree Meals – Perfect size for freezing individual serves of pureed meals for your little one. Simply defrost and then heat in a bowl of hot water and they are good to go. Great to have as a back up when you are out for a meal. Read more here about introducing solids.

Puree Fruit – Make your own puree fruit for the kids to enjoy on the go.

Yoghurt – Buy a 1 litre tub of your families favourite yoghurt and divide into The Little Green Pouches. Freeze them for school lunch boxes and they will be defrosted for morning tea or lunch.

Custards – Make your own custard, or buy custard and divide into The Little Green Pouches for a no mess dessert.

Smoothies – Make a nutrient packed smoothie and pour into The Little Green Pouch ready for them to enjoy easily after school or freeze to take in the school lunchbox or to have in the car on the way to school if you are pushed for time in the morning. This Banana, Mango & Ginger Smoothie is perfect.

Chia Seed Puddings – Click here for all the info on how to add Chia Seeds into your families diet.

That's just a handful of ideas to get you started. Here is a special Yoghurt Smoothie I made this week.

FRUIT SALAD YOGHURT SMOOTHIE

1 Cup of Canned Fruit Salad
1 Cup Greek Yoghurt
1/2 Cup Milk

Place all the ingredients into the blender and whizz up until smooth. Divide into The Little Green Pouches using their nifty collapsable funnel.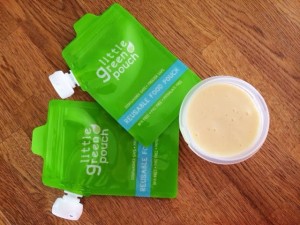 Enjoy straight away or freeze and then place into lunch boxes frozen to enjoy at morning tea.

I have one Starter Pack, just like this one seen here to giveaway to one lucky reader. This is open internationally to all readers.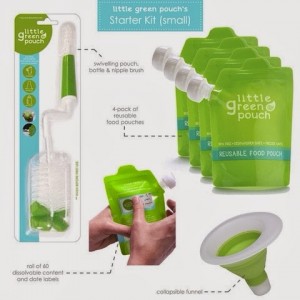 To enter simply use the rafflecopter widget below and comment below with what you would put into your Little Green Pouches? Full terms & conditions listed in the rafflecopter widget. Good Luck.
I also have a promo code to use at checkout to save 25%, just enter CFBM25

a Rafflecopter giveaway
This is a sponsored post. All opinions and recipe are my own.

(Visited 206 times, 10 visits today)