I love challenging myself and trying to make new things from what I only have in the house. I needed something to get me through the week for my work morning teas and something for the boys to eat after kindy etc.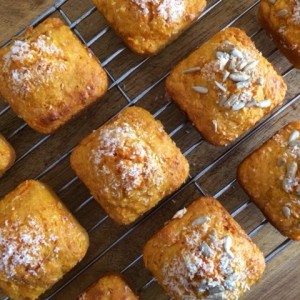 Two lonely carrots stared at me from the fridge, but not for long. Before they knew it they were grated with the food processor and turned into these fab carrot and coconut bars.
INGREDIENTS
2 Carrots, peeled and grated
3 Eggs
1/3 Cup Treacle or golden syrup/maple syrup
3/4 Cup Wholemeal Self Raising Flour
1/3 Cup Self Raising Flour
1/2 Cup Desiccated coconut
LET'S PUT IT ALOTOGETHER
1. Using a food processor with the metal blade add the grated carrot ( you can use the food processor first to grate the carrot), eggs and treacle. Process for 30 seconds.
2. Add the remaining dry ingredients and process until just combined.
3. Quickly pour into greased square of muffin whole trays. Sprinkle with a little extra coconut or some sunflower seeds. Bake in a 180 degree Celsius oven for 15 minutes or until they bounce back when touched.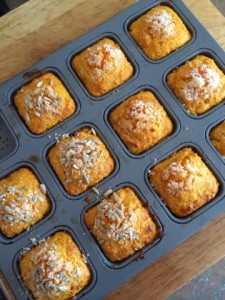 Makes 12
Freezer Friendly: place individually in zip lock bags and freeze for up to 3 months.
Best stored in an air tight container in the fridge if not freezing.

(Visited 4,226 times, 9 visits today)