Whenever I think of Tacos I automatically think of beef tacos, you know the ones that you enjoy for dinner and the mince filling is generally hot. Well I am about to change your first impression of what goes into a taco with Matt Golinski's Chicken & Avocado Tacos.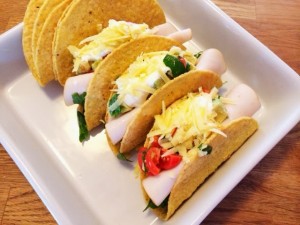 These beauties require NO cooking and with a few dices, slices and mixes you will have these ready in no time. Perfect for a hot day dinner or lunch and also perfect to send as a deconstructed lunch for the little kids, you will be adding these to your favourite list in no time.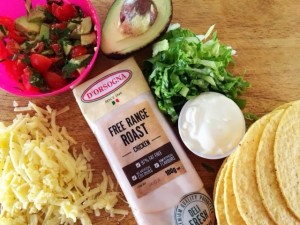 INGREDIENTS
200g D'Orsogna Deli Fresh Free Range Roast Chicken

12 Taco shells

1 Avocado, diced

2 Tomatos, diced

1 bunch of Coriander

the juice of 1 Lemon

50ml Olive Oil

200ml Sour Cream

1 cup shredded Lettuce

200g Grated Cheddar

Salt and Pepper
COOKING INSTRUCTIONS
Toast the taco shell in the oven for ten minutes to re-crisp them. (They can also be heated for 15 secs in the microwave)

Mix together the avocado, tomato, lemon juice and olive oil and season with salt and pepper.

Place a pinch of lettuce in the bottom of each taco shell.

Add half a slice of D'Orsogna Free Range Roast Chicken.

Top up with the avocado salsa, sour cream and grated cheese.
Check out the 2 minute video here to see how easy they are to make:
Click
here
to view the recipe on the Lunchtime Legend page.
I made them this week for the family and we really enjoyed them. I deconstructed them for the kids to eat and I think this would be a perfect way to send them for lunch for littlies (old enough to eat corn chips and the likes thereof). Older children should be fine to eat them as they normally would.
The large Deli Slices of the Free Range Chicken are packed full of flavour, 97% fat free and contain no artificial colours or flavours which keeps us Mum's happy.
Tips on packing for the lunchbox: For the littlies use a segment lunchbox and deconstruct the taco like this: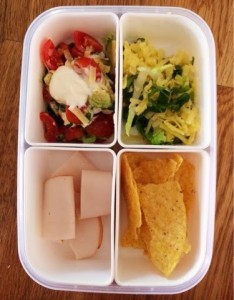 Big Kids: wrap tightly in cling wrap and place into a container to avoid cracking the taco shell.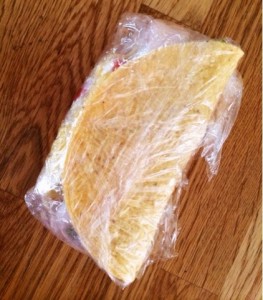 Send with a freezer pack in the lunch cooler bag.
GIVEAWAY: I have a $30 Woolworths gift card to giveaway to one lucky reader so you can recreate this at home. All you have to do is use the rafflecopter widget below to enter. OPEN TO AUSTRALIAN RESIDENTS ONLY.
>
Disclaimer: This is a sponsored post, I was provided payment as well as the ingredients to make the recipe. All opinions expressed are my own.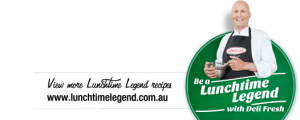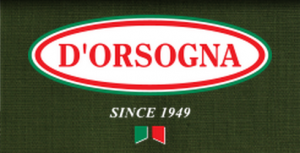 (Visited 430 times, 2 visits today)