Oats, peanut butter and honey are a great combination.  I know I love peanut butter and honey in my porridge so it was only natural that I tried the flavours in a biscuit combination and they turned just as I imagined.
The oats give the biscuit a hearty texture while the peanut butter and honey flavours come through in eat bite.
I have enjoy one or two with my morning coffee and they get me through until lunchtime and the boys have had them in their lunchboxes (we don't have a nut policy at our school, nut if you do try replacing the peanut butter with tahini or save them for afternoon tea).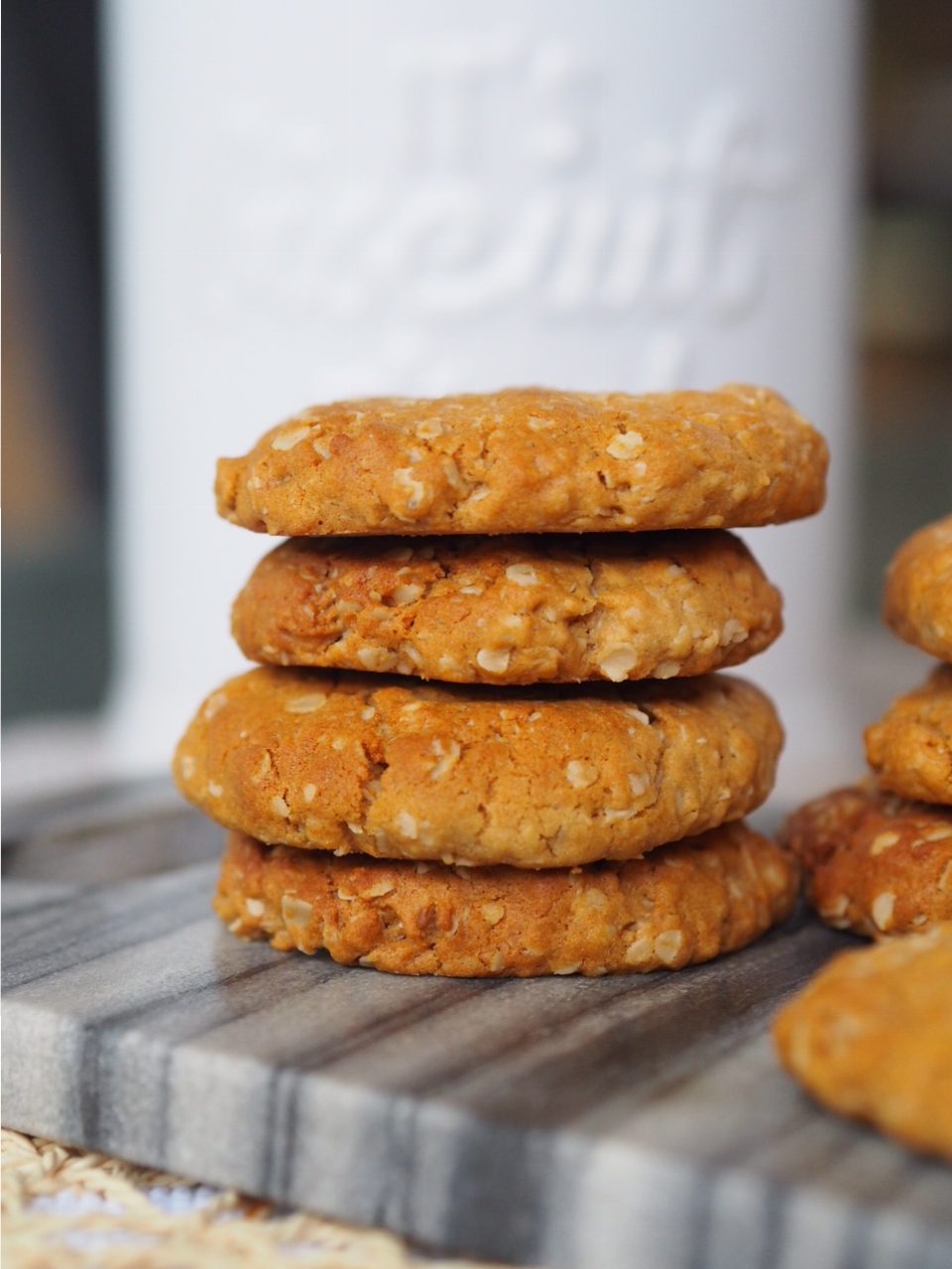 A special thanks to OzSale for the beautiful marble and timber serving platter used for the photos in this recipe.
INGREDIENTS
1/2 Cup Peanut Butter
1/2 Cup Honey
100gm Butter
1/2 Cup Brown Sugar
1 Egg
1 1/2 Cups Quick Oats
1 Cup Plain Flour
1 Tsp Bicarbonate Soda
LET'S PUT IT ALL TOGETHER
In a microwave safe bowl add the peanut butter, honey and butter.  Place into the microwave on medium high for 45 seconds to 1 minute or until the ingredients melt. Stir together.  This step can also be done in a saucepan on the stove using a low.
If the bowl was large enough you can use it to add the remaining ingredients, otherwise transfer to a medium mixing bowl.  Add the remaining ingredients and mix well to combine.
Line a baking tray.   Roll tablespoon sized amounts of the dough and place onto the try, flatten to form a circle.  Repeat until all the mixture is used.
Place into a preheated 180 degree Celsius oven and bake for 12-15 minutes or until lightly golden on top.  Allow to cool on the tray for 5 minutes before transferring to a cooling rack to cool completely.
Store in an airtight container in the pantry for up to 7 days.  Alternatively, in hot weather store in the fridge.
Makes 12+

(Visited 11,857 times, 15 visits today)