If I searched Banana on the blog I would probably find I have many banana bread, muffins and cake recipes and the reason is I am continually tweaking my banana recipes whenever I have those brown mushy bananas that need using up.
This recipe really benefits from those really really overripe brown bananas as there is no added sugar just the natural sweetness from the bananas.
My two boys really enjoyed these and I think that the little sprinkle of 100's & 1000's made them that all more appealing to the littlies. These can be omitted to stick to the no added sugar guidelines of this recipe.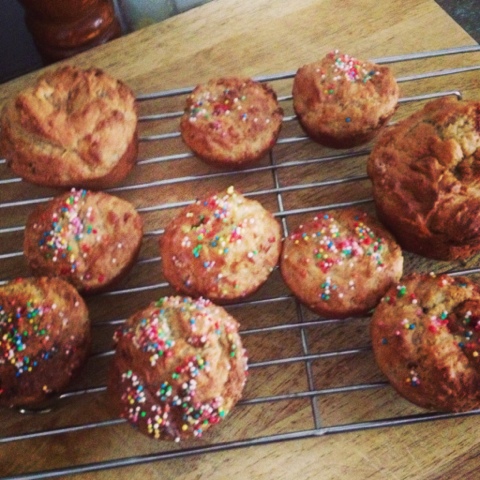 INGREDIENTS
2 Very Overripe Bananas, mashed
1 Cup Natural Yoghurt
1 Tsp Vanilla Essence
1/2 Cup Skim Milk
2 Cups Plain Flour
1/2 Cup Desiccated Coconut
1 1/4 Tsp Baking Powder
1/2 Tsp Ground Cinnamon
3/4 Tsp Salt
LET'S PUT IT ALTOGETHER
1. Place all the wet ingredients including the mashed banana into a large bowl and mix to combine.
2. Add the dry ingredients and fold through until just combined.
3. Spoon into a greased 12 hole muffin pan and bake in a 180 degree Celsius oven for 15-20 minutes or until golden brown and they bounce back when touched.
Store in an airtight container for up to 3 days.
Freezer Friendly: place in ziplock bags and freeze for up to 3 months.
Lunchbox Friendly: Perfect for lunch boxes, if frozen place straight into the lunchbox and they will be defrosted by morning tea.

(Visited 941 times, 4 visits today)