Ever since having the kids and returning to work I make an effort to always take morning tea, lunch and afternoon tea from home. Not only is it cheaper it is a healthier option as well.
Muffins and cakes from your local bakery may look yummy and convenient but you don't actually know what's in them which is why I like to make my own as I control the sugar and fat content without missing out on a morning treat to get me through the work day.
I like to make batches of muffins and freeze them in ziplock bags, the morning that I'm going to work I simply take one out of the freezer and place it in my bag. By morning tea it is defrosted or can be heated a little in the microwave at work.
These low fat crumble top raspberry muffins have been a yummy treat for morning teas that is also not going to go straight to your hips.
INGREDIENTS
90 grams low fat olive oil spread
3 1/2 Cups Self Raising Flour (or substitute the 1/2 cup for wholemeal flour)
3/4 Cup Raw Sugar
Zest of one Orange
1 Cup Frozen Raspberries
2 Eggs
1 Cup Skim Milk
1/4 Cup Ground Almonds or ground up sunflower seeds
LET'S PUT IT ALTOGETHER
1. Melt 75gm of the low fat olive oil spread in the microwave in a microwave safe jug. Set aside to cool a little.
2. In a large bowl place the flour, 1/2 cup sugar, orange zest and raspberries. Stir to combine.
3. Add the eggs and milk to the melted butter and mix with a fork.
4. Add the liquid ingredients to the dry ingredients and mix until just combined.
5. Divide into a greased 12 hole muffin pan.
6. Melt the remaining 25grams of butter and then add the sugar and ground almonds. Mix and then sprinkle over the top of each muffin.
7. Bake in a 180 degree celcius oven for 15 minutes or until golden and when touched they bounce back.
8. Cool on a wire rack. Then place each muffin into a ziplock bag and freeze for up to 3 months.
Makes 12
Freezer Friendly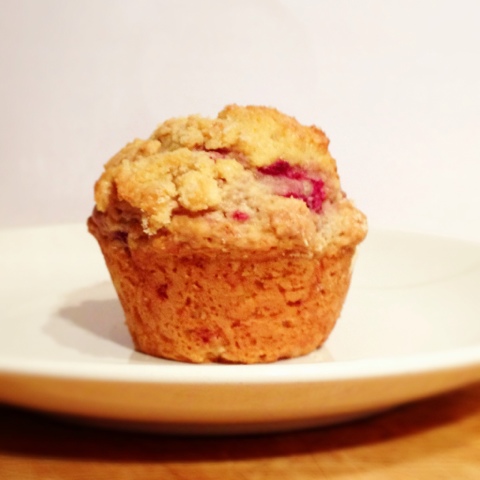 (Visited 1,579 times, 4 visits today)