A few lonely strawberries that were a little past good eating were sitting the fridge on my Sunday baking day for the school lunchboxes.  We pretty much stick to muffins as they are easy for the boys to eat and easy to pack in the lunchbox, I do however make all different types of flavour combinations usually by using what needs to be eaten in the fridge and pantry.
So I grabbed the strawberries and teamed them up with the overripe bananas that I had been saving for a Date and Banana loaf (page 301 of by cookbook) for breakfast but sacrificed to make these yummy muffins.
Light and fluffy and the white chocolate is a welcomed edition, but you could simply leave these out.  Next time I may also replace 1/2 cup of the flour with oats to boost the fibre content to make these muffins more filling.
INGREDIENTS
2 Over-ripe bananas
2 Eggs
6 Strawberries, washed and stems removed
1/2 Cup Sunflower Oil
1/2 Cup Sugar
1 1/2 Cups Self Raising Flour
1 Tsp Bicarbonate Soda
1/3 Cup Milk
1/3 Cup White Chocolate Chips (plus extra for the tops)
LET'S PUT IT ALL TOGETHER
1. Preheat the oven to 180 degrees Celsius.  Place paper muffin cases in a 12 hole standard muffin tray and set aside.
2. Put the bananas, eggs, strawberries, oil and sugar into the bowl of a food processor, stand mixer, thermo style appliance or blender and process until smooth.  Add the remaining ingredients and mix until combined.
3. Divide the mix into the muffin cases and add a few extra white chocolate chips on top.  Bake for 15 minutes or until the muffins bounce back when touched.  Allow to cool in the tray for 5 minutes before transferring to a wire rack to cool completely.
Makes 12
Store in the fridge in an air tight container for up to 7 days.
Freezer friendly: place muffins on a tray, once frozen transfer to ziplock bags and freeze for up to 3 months.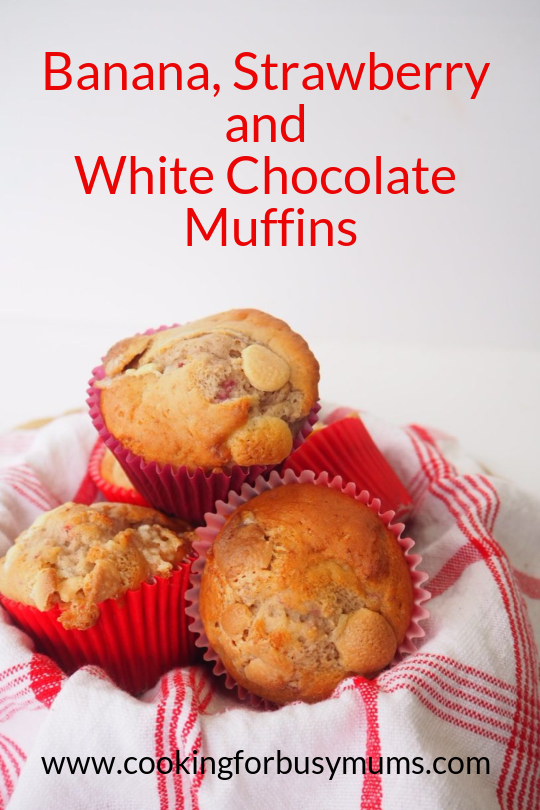 (Visited 8,793 times, 24 visits today)