Zucchini and Smoked Salmon fritters are the perfect quick and tasty appetiser or light meal.  They take minutes to prepare and cook.  A crunchy outside, soft inside and the bursts of the smoked salmon all come together in this little parcel.
Make these for your upcoming Christmas parties and get your guests excited for the meals that are ahead of them.
Personally I love to eat these anytime of the day.  They make a perfect breakfast, lunch and dinner.  You can make the fritter batter in the morning and cook it in the evening making it such a simple and healthy option.
To keep this dish budget friendly as smoked salmon can be expensive, look for the packet that is Smoked Salmon Pieces, it is half the price of smoked salmon slices.
INGREDIENTS
1 Large Zucchini, grated
100gm Smoked Salmon Pieces
1 Shallot Stalks, sliced finely
1 Large Egg
2 Tbs Plain Flour
Salt and pepper to taste
Olive oil for cooking
LETS PUT IT ALL TOGETHER
1. Squeeze the excess juice from the grated zucchini and place into a large bowl.  Add the remaining ingredients and mix well to combine.
2. Over a high heat place a large non-stick frypan with 1/4 cup olive oil.  Once heated add heaped tablespoon sized amounts of the fritter batter.  You will get about 5 in the frypan at a time.  Cook for 1-2 minutes before flipping, flatten slightly and cook for a further 1-2 minutes.  Remove from the frypan and place onto a paper towel to soak up and excess oil.  Repeat for the remaining batter.
Serve with a drizzle of aioli and finely diced chives.
Makes 12+
Best enjoyed straight after cooking.
The batter will keep in the fridge for up to 2 days.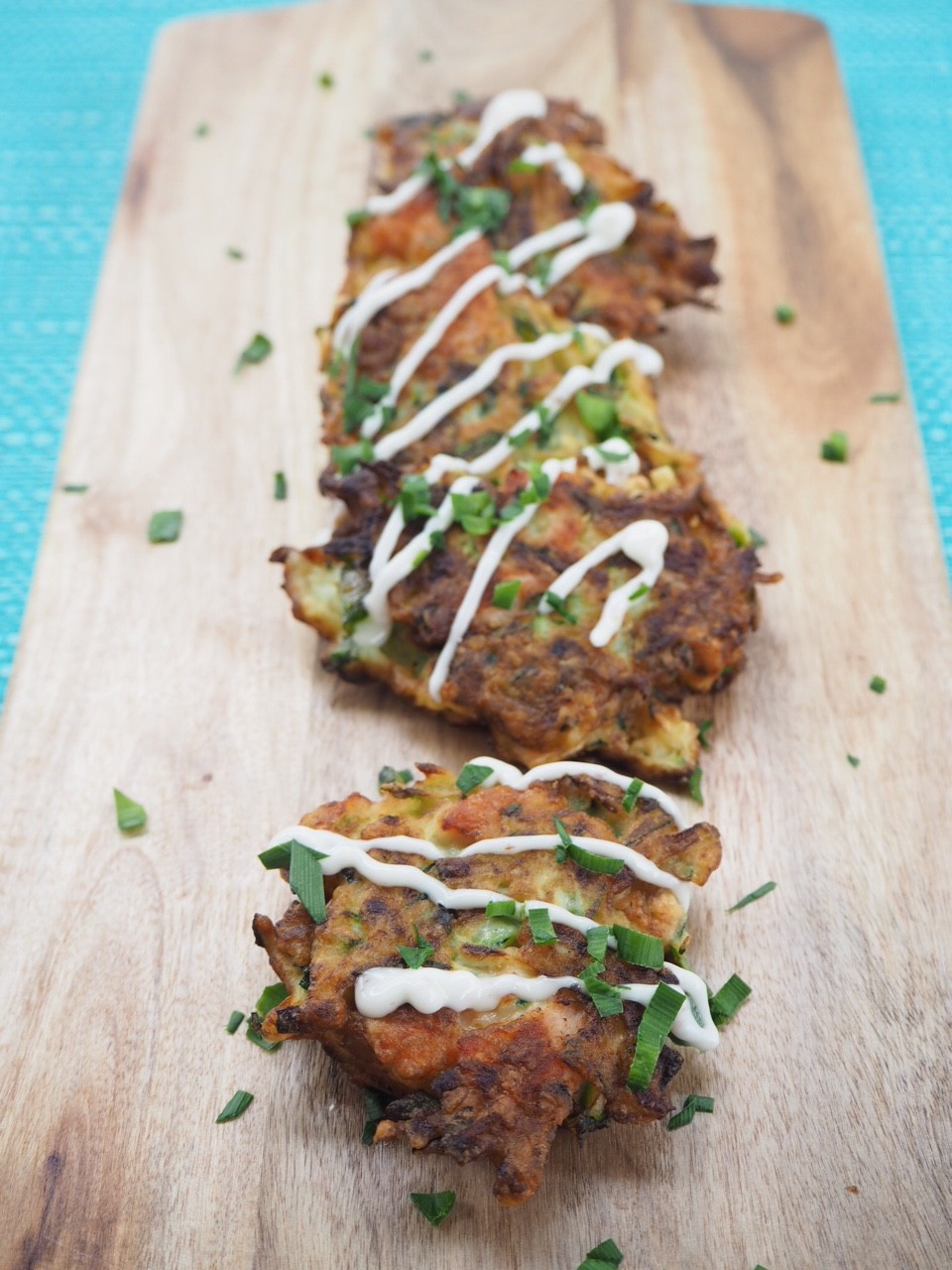 Find more Christmas recipes here.

(Visited 6,006 times, 10 visits today)