One thing I am making a habit of doing while the weather is warm is making salads especially to take to work.  A little bit of prep in the evening on a Sunday means that I just grab my container from the fridge on a work day and off I go.  I save money and also eat a lot better.
I have used baby spinach and cherry tomatoes in this recipe as they last better in the containers then lettuce and cut up tomato. I have also added cannellini beans for the added fibre and to keep me full.
The salads made up will last for up to 5 days.  You can make them in a jar or use good air tight container.
INGREDIENTS
There are no real exact measurements to make your salads.  Use your own judgement as to how much or little you want of each ingredient.
Baby Spinach
Cherry Tomatoes
Can of Cannellini Beans, rinsed and drained
Greek Feta, cubed
Olives
Red Onion, sliced finely
Red Capsicum, diced
500gm Chicken Breast, cut into strips
Greek Seasoning
Fat Free Greek Salad Dressing
LETS PUT IT ALL TOGETHER
1. Sprinkle the chicken breast strips with Greek seasoning and place into a hot fry pan with a little olive oil.  Cook until golden on both sides.  Remove from the fry pan and allow to cool completely.
2. Using a jar or an airtight container begin to assemble your salads.  Start with the cannellini beans, followed by the capsicum, tomatoes, feta, red onion, olives and baby spinach.  Seal and place in the fridge until you are ready to use.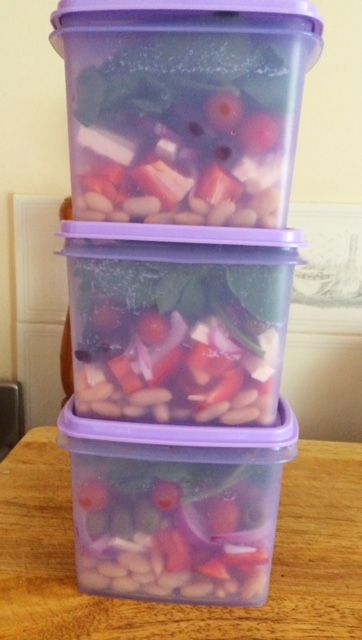 3.  Once the chicken breast strips have cooled.  Divide into zip lock bags.  You can keep two days worth in the fridge, but the remaining days should be frozen.  On the day of eating take out of the freezer and they will defrost in the fridge by lunchtime.
4.  Take a serve of salad dressing on a small container and add just before eating.
Makes 3-4
The salads will last up to 4 days.  Make sure your ingredients are fresh to start with to ensure they are still good by the fourth day.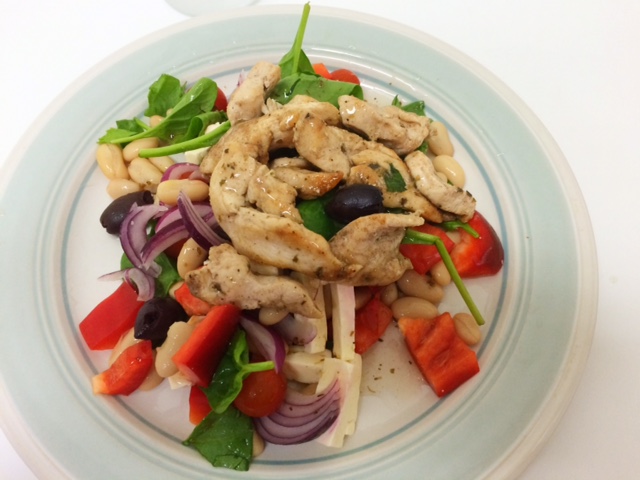 (Visited 1,272 times, 1 visits today)