This is a super quick and easy version of what can become a rather labour intensive meal. My easy Chicken Meatball Spaghetti Bolognese is a perfect weeknight dinner. You can have it cooked and on the table in under 15 minutes.
I am using two Barilla products for this recipe. I won a gift pack a couple of weeks ago when I entered my
Basil Pesto Chicken Pasta
that uses Barilla Conchiglie Rigate into a competition they held on Instagram, and I won! There products are perfect for busy families as their sauces are made from all natural ingredients and preservative free and their pastas cook perfectly in 7 minutes and they taste delicious too.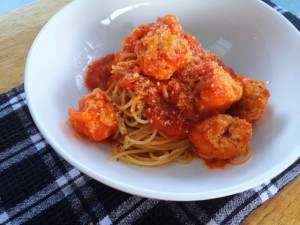 INGREDIENTS
1 Jar Barilla Bolognese Sauce
1 Packet Barilla Whole Grain Spaghetti
500gm Chicken Mince
1/2 the empty Bolognese sauce jar full of water
Olive Oil
Salt and Pepper to taste
Chilli Flakes to serve (optional)
Grated Parmesan to serve
Optional: feel free to add some small frozen vegetables (like, peas, corn or capsicum) to the boiling pasta water.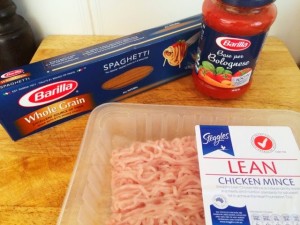 LET'S PUT IT ALTOGETHER
1. Put a large pot of water on the stove and bring to the boil, you can add some salt to the water if you like. While you are waiting for it to boil prepare the chicken meatballs and sauce.
2.In a heavy based large sauce pan or a casserole dish that can go on the stove add a little olive oil and turn to a medium heat. Take the chicken mince and start to roll little balls (wet your hands a little it makes it easier to roll) place them into the hot pan as you go. Continue until all mince is finished.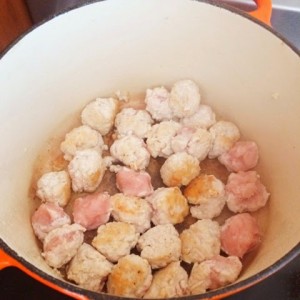 3. The water should be coming to the boil by now, add the pasta and leave to cook for 7 minutes.
4. Cook the chicken balls moving regularly until they are lightly browned on most sides. Reduce to a low heat and add the Barilla Bolognese sauce, 1/2 a jar of water and salt and pepper to taste. Cover and allow to simmer until the pasta is cooked.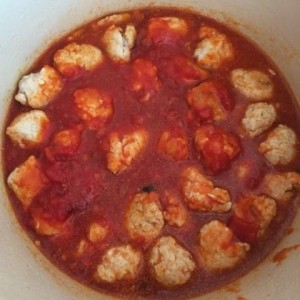 5. Once the pasta is cooked the sauce and chicken balls will be ready.
Serve in bowls with a sprinkle of Parmesan and chilli flakes for the adults if you like.
Serves 4-6
Perfect for lunch the next day.
Make ahead and freeze, defrost and reheat when ready to eat.
This is not a sponsored post, I won the Barilla products in a competition and I'm sharing this recipe because it is perfect for busy families.

(Visited 2,718 times, 10 visits today)