We are having the most perfect Winter weather on the Gold Coast at the moment, blue clear sky's and even reaching temps of 23 in the middle of the day (where has Winter gone?). This morning the boys and I were out early for a walk to one of the little local shops approx 4km with a double pram up and down hills. The little bakery wasn't open so we went to the Foodstore and bought some bread. There were sweets everywhere in the shop but the boys knew it was way to early to even think about asking me, instead they saw a Farm Animal pack for $4 and asked for that I was happy for them to have it and they shared the toys and sat quietly in the pram for the 2km walk home.
When we arrived home they played with the farm set, I poured some old buckwheat I had into a tin and they play happily pretending to harvest the "seeds" while I had a shower.
We had morning tea and I said I had a new drink for them. I pulled these awesome looking Water Buddies out of the fridge and we went outside to enjoy them in the sunshine. Both boys were excited by the colourful design and funky shape of the bottle. With1.8% sugar which equals about 5gm sugar per bottle these are such a better packaged drink option then the normal "fruit drinks" you see which normally have 20gm of sugar or more.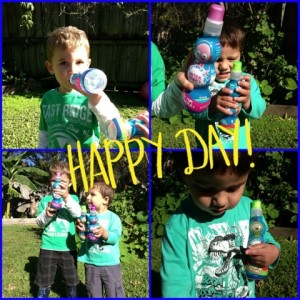 I had a taste and they are a super watered down drink made with natural spring water that has natural fruit flavours and NO JUNK.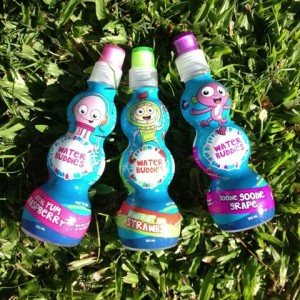 They are something I would give the boys again and would wish that they stocked more widely in little shops. They are also great to encourage children to drink water if you having troubles with that. I saw them this week at Aldi on special for 99cents which is a bargain when the RRP is $1.99. They are also available at Woolworths. For more info visit www.drinkwaterbuddies.com.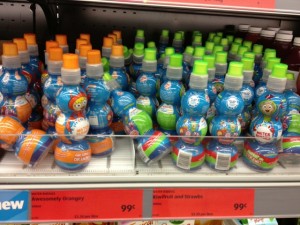 I have this great pack to giveaway valued at $40 which includes 5 bottles of Water Buddies and a fantastic watch. To enter simply use the Rafflecopter below. Open to Australian Residents only. Full T & C's included in the Rafflecopter widget.
I was provided three bottles to review, no payment was received and all opinions expressed are my own.

(Visited 244 times, 1 visits today)