Can someone please tell me where the last four years went? So much has happened since I first started Cooking For Busy Mums back when my first son was nearly 6 months old in 2010 that I can hardly believe I am still here four years on doing what I love and sharing recipes with you as well as raising two growing (hungry) boys, running a household, working part- time and being the many hats a mother and wife has to be.
So this is a celebration for the blogs 4th Birthday but also a celebration for every Mum and being able to achieve so many things everyday, we all need to celebrate ourselves.
Now, you see Kambrook have been a consistent support to the blog over the last year and for that I thank them. They also have been lovely enough to provide their new PowerMix Planetary Bench Mix to giveaway to one lucky reader.
This bench mixer has been with me for a few months now and I have loved having her in my kitchen. She makes light work or whisking cream and eggs, puts just the right amount of air into my cake and muffin mixes and also lends her hook to make my bread and pizza dough. She really is a versatile machine and gives me back my hands for a few minutes to wrangle the dishes or tend to toddler jumping at my feet.
If you don't have the budget for one of the other well known bench mixers then this is for you, it comes in at about $170 and won't leave your bank balance dry. Sure it doesn't come in pretty colours or have the ability to attach grinding and mincing blades etc but for me it does what I need it to do and that's give me back my hands and helps me get my baking done quickly. It's also not as heavy or big as the other expensive bench mixers which makes it nice and easy to get in and out of the cupboard (I don't have the bench space to leave it out).
I celebrated the blogs 4th Birthday with these lovely Lemon Meringue Pies in a Glass. They are absolutely delicious and perfect for when you are having a celebration or dinner party. Make them in the morning eat them when your ready – fabulous, your guests will think you have been in the kitchen all day but really it only takes about 30 minutes for this sneaky dessert.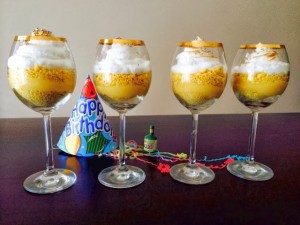 INGREDIENTS
Lemon Filling
3 Lemons, juiced
4 Tbs Corn flour
1 1/4 Cups Water
3/4 Cup Raw Sugar
4 Egg Yolks
90 grams Butter
Biscuit
1 Packet Arrnots Lemon Crisps – they have a salty lemon flavour (use a pre-made gluten free biscuit to make this recipe Gluten Free)
Italian Meringue
1 Cup Caster Sugar
1/4 Cup Water
4 Egg Whites

LET'S PUT IT ALTOGETHER
Lemon Filling
1. Place the Water, sugar and lemon juice into a medium saucepan. Place over a medium heat and bring to the boil, stirring occassionally until it does.. Once it just starts to boil remove from the heat and whisk in the cornflour, egg yolks and butter. Give it a good whisk and return to a low heat whisking continually for about 30 seconds until thick and smooth. Remove from the heat and set aside to cool.
Biscuits
1. Place the biscuits into a food processor and process with the metal blade until all the biscuits are broken down into even size pieces.
Italian Meringue
1. In a small saucepan add the sugar and water, stir to combine. Place the saucepan over a medium heat and continue to stir regularly.
2. After about 1 minute the sugar should start to dissolve, at this point place the 4 egg whites into the bowl of the bench mixer and using the balloon whisk, whisk until it becomes white and frothy. At this point the water and sugar mix should be completely dissolved and slowly bubbling away.
3. Very Very slowly pour the sugar syrup into the egg whites while it is still whisking.
4. Continue to whisk until the mixture in completely cool.
It should be white, glossy and hold its form really well.
The next part is the fun part, assemble into chosen glasses. I have used some lovely wine glasses. You could use plastic wine glasses, shot glasses for smaller serves etc.
Layer: Biscuit, Lemon Filling, Biscuit, then pipe the meringue on top (or you could simply spoon on)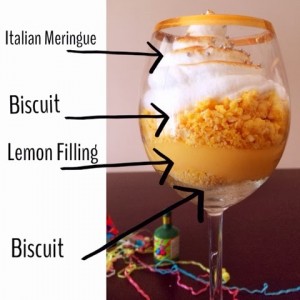 Optional: If you have a kitchen blow torch, use it to brown the top of the meringue (if using plastic cups, be careful not to heat the plastic) other wise it is perfectly fine as it is as the hot sugar syrup has cooked the egg whites.
Sprinkle with some silver balls or decoration of choice.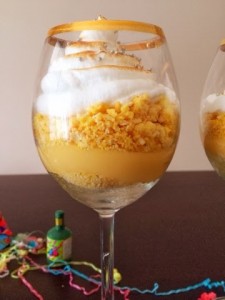 Refrigerate until ready to eat.

Makes 6 large serves.

If you would like the chance to win the Kambrook PowerMix Planetary Bench Mixer, all you have to do is follow the rafflecopter prompts below and also leave me a comment about what you would like to see from Cooking For Busy Mums in the coming year. OPEN TO AUSTRALIAN RESIDENTS ONLY.

a Rafflecopter giveaway



(Visited 261 times, 2 visits today)