I think I first need to translate what Croque Monsieur is, as I had never heard this name before and not sure I can even pronounce it correctly :). Google tells me it is a grilled ham and cheese sandwich which originated in French Cafes from about 1910, with the word croquer meaning "to crunch" and monsieur "mister" – to crunch mister – and crunchy it is.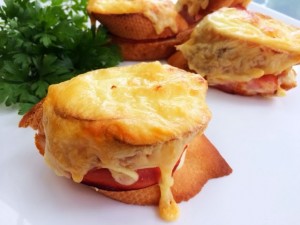 This Croque Monsieur by Matt Golinski for D'Orsogna Deli Fresh is a great twist on the traditional toasted sandwich, serve it up with a generous side salad and you have a lunch that you can talk about.
INGREDIENTS
100g D'Orsogna Deli Fresh Champagne Ham

100g Gruyere or Cheddar Cheese

250ml Béchamel Sauce (White Sauce)

1 Baguette, sliced into 16 x 1cm pieces
COOKING INSTRUCTIONS
Preheat the oven to 200°C.

Spread each slice of baguette with ½ tbs of Béchamel sauce.

On half of the bread pieces, place a slice of the Champagne ham, and on the other halves, a large slice of cheese.

Place the bread slices with ham on a baking tray previously lined with baking paper, and lay the slices with cheese on top.

Bake for 10 minutes or until the cheese is melted and golden, for the best ever French style toasted cheese sandwich!
Click here to view the recipe on the Lunchtime Legend website
Take a look at the video showing you exactly what to do.
I have never had a toasted sandwich with the cheese on the outside or
Béchamel Sauce
on the inside, making it a completely different cooking and taste experience. The D'Orsogna Champagne Leg Ham comes through deliciously fresh against the stronger flavours of the cheese and sauce. This is best enjoyed with a side salad for lunch or a lovely fruit salad for breakfast.
As for packing for the lunchbox, I think this one won't make to the lunchbox. Best served straight from the grill, it's one for home. So save it up for when the family is hungry on the weekend.
If you would like to make this french toasted sandwich at home, I have a $30 gift card for Woolworths to giveaway thanks to D'Orsogna Deli Fresh so you can make them at home and also pick up some other D'Orsogna Deli Fresh meats from their range.
GIVEAWAY: I have a $30 Woolworths gift card to giveaway to one lucky reader. All you have to do is use the rafflecopter widget below to enter. OPEN TO AUSTRALIAN RESIDENTS ONLY.
Disclaimer: This is a sponsored post, I was provided payment as well as the ingredients to make the recipe. All opinions expressed are my own.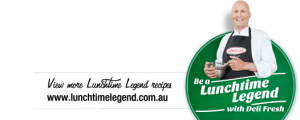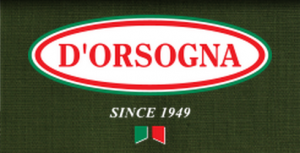 (Visited 227 times, 1 visits today)