At this time of year we are more inclined to buy a fresh leg ham. This Sweet & Sour sauce is a perfect way to add some variety to your fresh cut ham.
Quick and easy to make you will be wanting to have this all year round. This sauce is also perfect for sweet and sour pork and chicken recipes.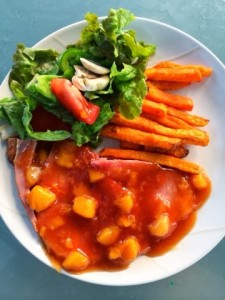 INGREDIENTS
400 gm canned fruit and the juice – pineapple is ideal. I used two fruit as that is what I had in the cupboard.
3 Tbs Brown sugar
2 Tbs Tomato Sauce
1 Tbs Soy or Hoisin sauce
1/4 Cup White vinegar or White Wine Vinegar
2 Tbs Corn Flour
2 Tbs Water
Thick cut pieces of leg ham
LET'S PUT IT ALTOGETHER
1. In a small saucepan place the fruit and juice, brown sugar, tomato sauce, soy and vinegar. Bring to the boil then remove from the heat.
2. Mix the corn flour with the water to form a paste and then stir into the sauce mix.
3. Place back on the heat and stir until it thickens and starts to bubble. Remove from the heat altogether.
4. Place thick cut pieces of ham into a fry pan and heat until each side slightly browns.
5. Place on a plate and spoon over the sauce.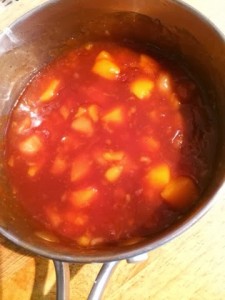 Serve with sweet potato chips and salad.

(Visited 790 times, 9 visits today)