These are so easy to whip up and would look perfect clustered together on the Christmas table, on top of a cake or just eaten as they are.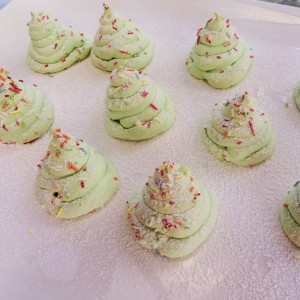 With only a handful of ingredients and the added bonus of being Gluten Free these are a lovely little treat.
INGREDIENTS
2 Egg Whites
1/2 Cup Caster Sugar
Green Food Colouring
Sprinkles
Icing Sugar
LET'S PUT IT ALTOGETHER
1. Using an electric mixer whip the egg whites until soft peaks form. The gradually add in the caster sugar followed by the green food colouring. Whip until all the sugar is dissolved.
2. Spoon into a piping bag and pipe onto a lined baking tray circles of the mixture until it grows in height to form a tree shape.
3. Give them a sprinkling of sprinkles and bake in a 130 degree Celsius oven for 10 minutes. Leave to cool in the oven (with the door ajar slightly). Finish off with a dusting of icing sugar.
Makes: Approx 10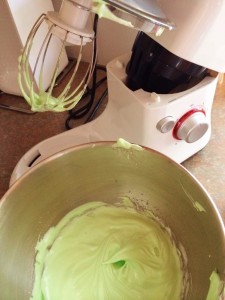 Store in a cool dry place in an air tight container.
Idea found via Pinterest
here

(Visited 1,549 times, 8 visits today)