When I was asked by SodaStream Australia if I would like to review their machine, I couldn't wait to reply with a 'yes'.
Hubby had mentioned it on and off for years that we should get one and my brother, well he was a little jealous when I told him I was getting one. (Don't tell him but I bought him one for Christmas). My only experience with a SodaStream was probably 20 years ago at my Aunties house while we were on holidays. I still remember being amazed at how this machine put bubbles into water.
The machines now come in trendy colours, different styles and budgets that will suit every household. Click
here
to see the range.
This is the one I have – it's called Source Element. I love that it's White, streamlined and easy on the eye.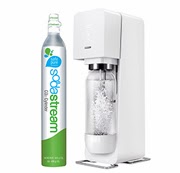 As it doesn't need power, you can easily move it around the kitchen, take it with you on holidays or take with you to a friends house.
There are so many flavours and types of syrups now. Ranging from traditionals like Cola, Lemonade, Ginger beer and too Sugar free flavours like Pink Grapefruit that uses Stevia. There are also Kids flavourings with added Vitamin C and less sugar. You will also find Cocktail flavours like Daiquiri and Cosmopolitan, Energy Drinks and even Ice Tea syrups. Click
here
to see the full range.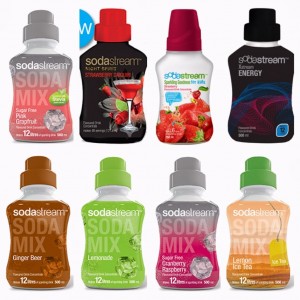 With such a wide range of flavour choices you will always have something different to try.
Now the important part, here is a mocktail and cocktail drink to enjoy this Christmas and Summer Holiday period.
PINK GRAPFRUIT CHERRY CRUSH MOCKTAIL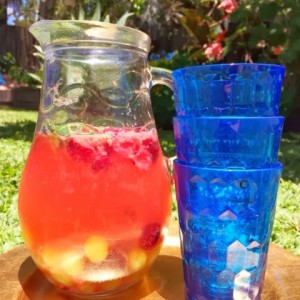 Mocktails in the Sun
This refreshing Mocktail will look lovely on the Christmas table. Crushed cherries and frozen green grapes give this Mocktail a lovely fresh boost.
INGREDIENTS
1 Litre of SodaStream Sugar Free Pink Grapefruit
1 Cup Crushed cherries (pips removed)
2 Cups Frozen Green Grapes
Handful of fresh mint leaves
Exta 500ml of plain carbonated water
Make the SodaStream and add it to a large jug followed by all the other ingredients. Give it a stir and enjoy.
Turn this mocktail base into a Cocktail by adding 500ml SodaStream Ginger Beer and 500ml of Red Wine for a twist on the traditional Sangria.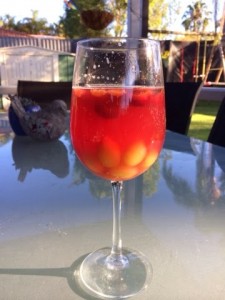 My style Sangria
Making a variety of mocktails and cocktails at home is made easy with a SodaStream. Experiment by simply adding your favourite SodaStream flavour – like Ginger Beer, Lemonade, Cranberry & Raspberry to fresh and frozen fruits a splash or juice would be nice too and your done.
It is as easy as this to get a great tasty Mocktail or Cocktail
SODASTREAM STRAWBERRY VODKA DAIQUIRI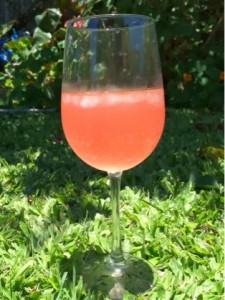 Strawberry Vodka Daiquiri
Daiquiris at home have never been easier. Using the New SodaStream Strawberry Daiquiri syrup simply make 1 litre of carbonated water and add the syrup. Serve with crushed ice, a splash of vodka and a twist of lime if you like.
What I like to most about SodaStream
I never purposely buy soft drinks for the house, only for parties. So I would say we aren't big sweet drink consumers, the kids only have water and milk on offer. The SodaStream gives me the versatility to control the amount of sugar that goes in. This means if I want to give the kids a treat drink on the weekend I can make it 1/4 strength and they will be still getting the fun of the bubbles with a little sweetness. You control how much syrup you put in.
I also like that I have the option to add my own homemade flavourings, a simple squeeze of a lemon, some crushed up strawberries etc and there is enough taste to satisfy a bubbly craving.
You won't have soft drinks sitting in the fridge going flat that you just have to throw away. The SodaStream allows you to make it fresh when you feel like it.
No messy machine to clean up.

When the gas in the cylinder is used up, simply exchange the empty cylinder for a full one, paying only the cost of the gas refill and the cylinder deposit. More info

here

.
You can buy a SodaStream from retailers like Kmart, Target, Coles, Woolworths, Myer, BigW, Harvey Norman and online at www.sodastream.com.au
What mocktails/cocktails do you make at home? Will you be enjoying any of this holiday season?
Disclaimer: I was provided the SodaStream Source Element and 3 bottles of syrup in return for this review. All photographs and opinions expressed are my own.

(Visited 964 times, 19 visits today)