I picked up two cartons of eggnog from Coles yesterday (they were on special for $7 for 2) and I couldn't wait to get them home and have a sneaky taste. The boys caught me and let's just say they love it too so I think I will be needing to get some more for next week.
This morning I made these scrummy Eggnog cookies. I am thinking they would be a perfect cookie to leave out for Santa. Try switching the vanilla essence for some rum essence for an adult/Santa version.
INGREDIENTS
2 1/2 Cups Plain Flour
1 Tsp Vanilla Essence or Rum Essence
1/2 Cup Eggnog
125gm Butter, cubed and softened
1 Tsp Ground Cinnamon
1 Cup Caster Sugar
2 Egg Yolks
1 Tsp Baking Powder
LET'S PUT IT ALTOGETHER
1. Cream the butter and sugar in a bench or hand mixer. Add the vanilla essence, eggnog and egg yolks and continue to mix for 1 minute until well combined.
2. Gradually mix in the flour, baking powder and cinnamon until combined.
3. Roll into teaspoon size balls (it may be a little sticky usie a dusting of flour on your hands to help) and place on a lined baking tray.
4. Bake in a 170 degree Celsius oven for 10-12 minutes or until the edges are lightly golden.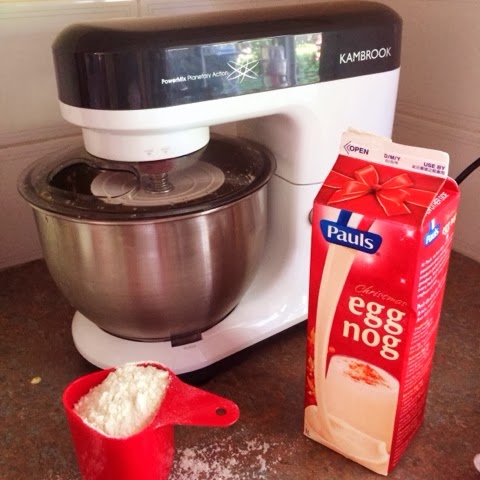 Optional: drizzle with eggnog icing.
Eggnog Icing
Combine 1 cup icing sugar with 1 tablespoon of eggnog mix to form a smooth paste. Drizzle over cooled biscuits, sprinkle with a little cinnamon and allow to set.
Keep in an airtight container for up to 7 days.
Makes: Approx 30 cookies

(Visited 550 times, 3 visits today)