I have two spaghetti bolognese crazy boys on my hands at the moment, and quietly we are getting a little bit bored with eating it.  So I decided to mix things up a little bit and make something different with our favourite bolognese sauce which led to the spaghetti pie with a creamy top.
This is a perfect meal to make when you have a crowd to feed – it makes a lot.  We enjoyed it over two nights during the week which meant I didn't have to cook one night (yipee).  The creamy top is what takes this from a normal spaghetti bolognese meal and makes it into something interesting and delicious.
INGREDIENTS
1 Serve of bolognese sauce
6 serves of cooked spaghetti
250gm Light Cream Cheese
200ml Light Sour Cream
2 Cups Grated Tasty Light Cheese
LETS PUT IT ALL TOGETHER
1. Make the bolognese sauce as instructed.  Cook the spaghetti.  Once these are ready you can begin making the pie.
2. Place the cooked spaghetti into the bolognese sauce and mix to combine.  Pour into a large baking dish.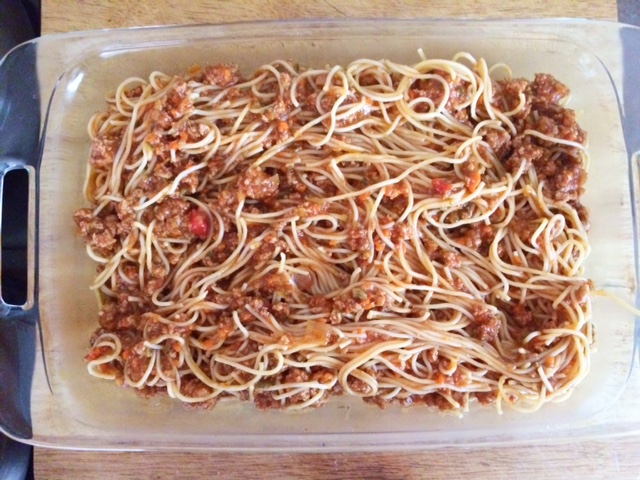 3. In a medium bowl add the cream cheese and sour cream.  Mix well to combine then spread over the top of the bolognese and spaghetti.  Finish with a sprinkling of the grated cheese.
4. Place into a preheated 200 degree celcius oven and bake until the creamy layer and cheese start to bubble and turn a lovely golden colour.  Approximately 15 minutes.
Cut sections out to serve.
Great for leftovers: store in the refrigerator until you are ready to eat again.  Simply remove portions and reheat in the microwave or oven.
Freezer friendly: use fresh mince when making to be frozen.  Place portions into air tight freezer safe containers and freezer for up to 3 months.  Allow to defrost before reheating.
Serves 4-8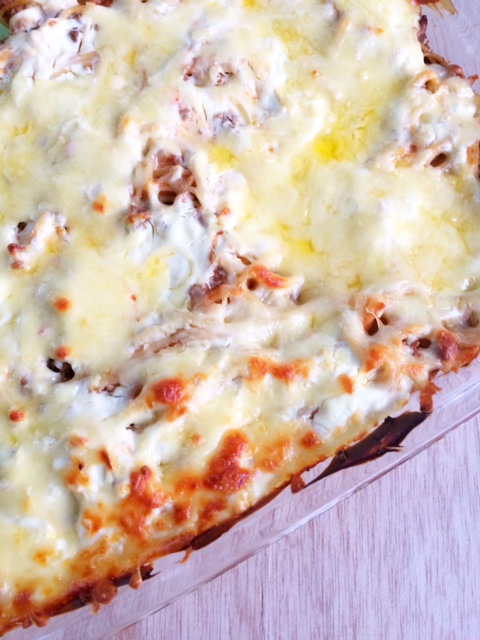 (Visited 4,803 times, 12 visits today)